'1000-Lb. Sisters' Season 4: Tammy Slaton Gained Back Weight in Rehab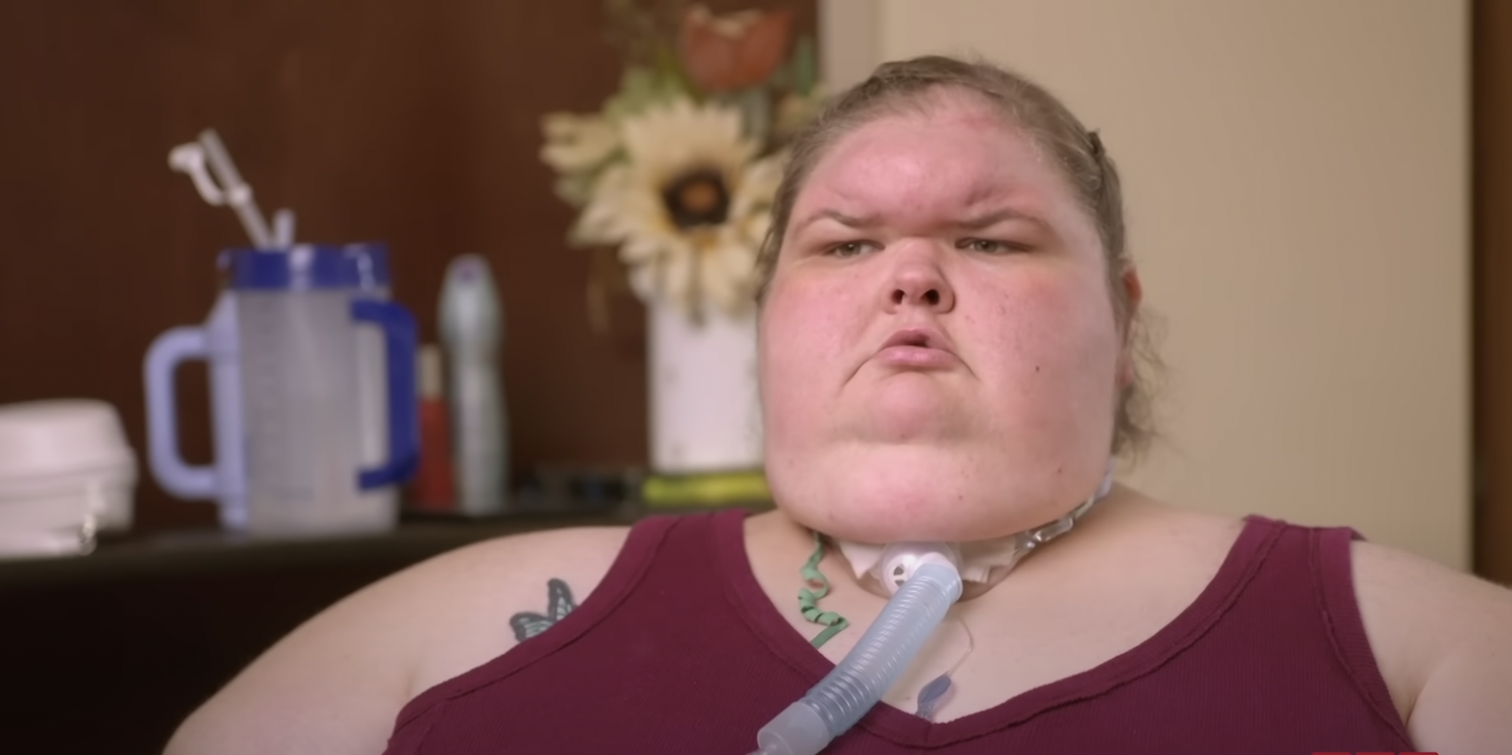 Tammy Slaton in '1000-Lb. Sisters' Season 4 |
TLC's 1000-Lb. Sisters Season 4 continues to show the lives of Amy and Tammy Slaton. The first episode of the season showed Tammy getting rushed to the hospital, and she had to get a tracheotomy inserted to help her breathing. In season 4 episode 2, she's told she gained back weight while in rehab. Here's what happened.
Tammy Slaton reentered rehab in '1000-Lb. Sisters' Season 4
Tammy Slaton in '1000-Lb. Sisters' Season 4 | TLC via YouTube
1000-Lb. Sisters Season 4 Episode 1 focused heavily on Tammy Slaton's scary hospital stint. The beginning of the episode showed Tammy stating she was "fed up with being sick all the time," thus she opted to head back to rehab. But she needed more immediate care. Tammy was immediately transferred to the hospital where her oxygen dropped within 30 minutes of arrival.
Tammy was put into a medically-induced coma and received a tracheotomy to have more direct access to oxygen in her lungs. "I've had a rough time with it," she said. "They cut your throat open and they put like a — I call it a PVC pipe. I don't know what else to call it. But, it's a tube, and it's in your throat, and it's about that long, and I get direct air, oxygen. There's some stuff I didn't even know could happen, like everything stuck in your throat. If it gets too stuck, I have to be suctioned out."
During the episode, a doctor reveals Tammy weighs 717 pounds — her highest weight to date.
She gained back 10 pounds in rehab despite striving for weight loss to get surgery
1000-Lb. Sisters Season 4 Episode 2 continues to show Tammy Slaton's progress in the hospital. Episode 1 revealed she hit her highest weight ever, but she lost a substantial amount of weight since reentering rehab.
"The last time I weighed in, I was 573," Tammy told the cameras before another weigh-in. This is a 144-pound difference from when she weighed in in episode 1. "And I still have to make it down to 550 to be approved for bariatric surgery. I'm probably going to be 10 pounds away from my goal. … Seeing the numbers go up, it's one of my worst fears."
Tammy then steps on the scale — and it's revealed that she gained back 10 pounds since her last weigh-in. Her new weight was 583. She verified that this …
Source:: Showbiz Cheat Sheet
(Visited 1 times, 1 visits today)