'Wednesday': A Breakdown of Wednesday's Investigation Into the Murder Mystery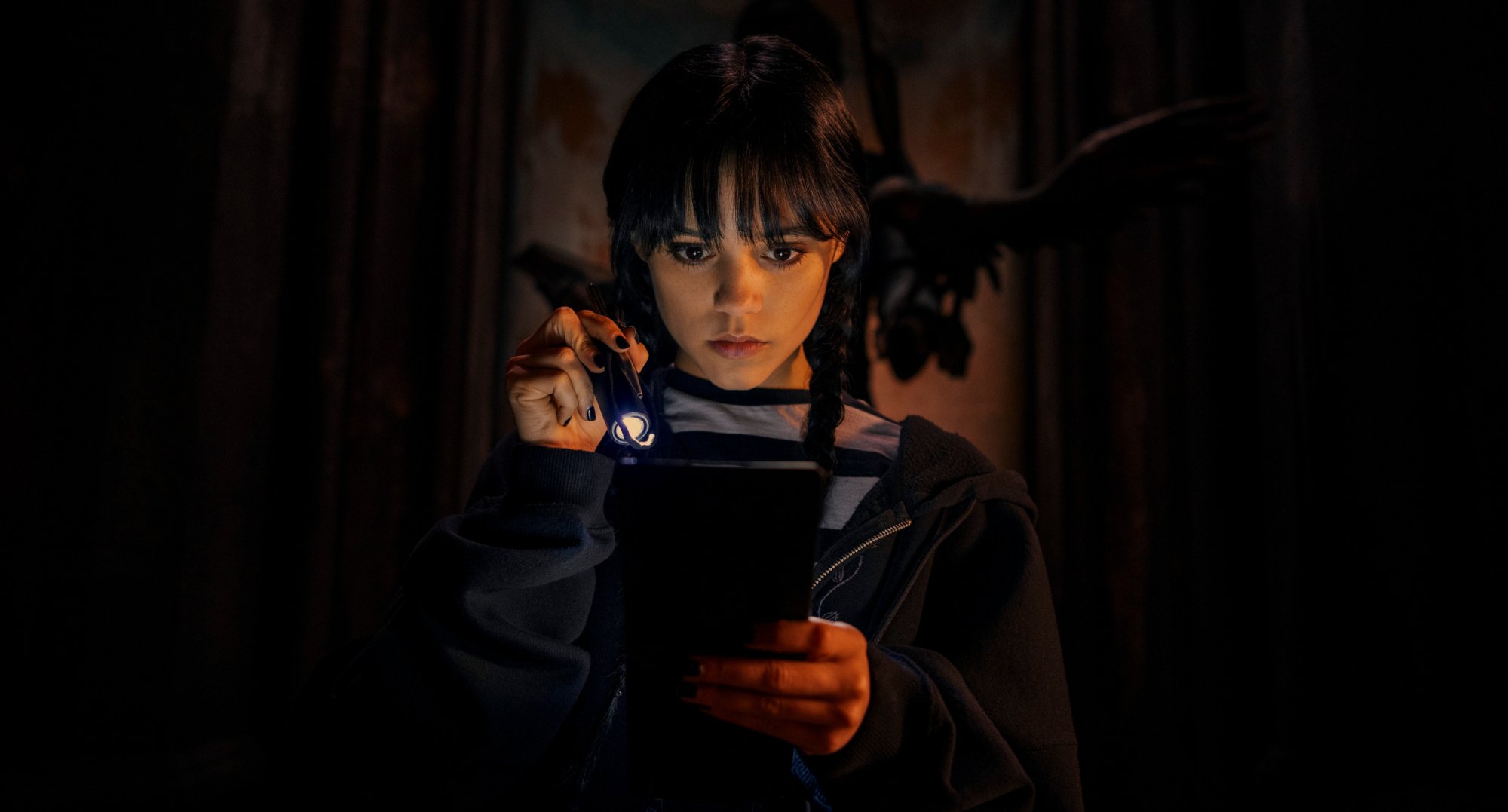 There are multiple threads to the grand mystery in the Netflix series Wednesday. As Wednesday Addams (Jenna Ortega) attends Nevermore, she becomes entangled in the web of local murders, the secrets of the school, her parent's past, and her ancestry. The investigations into the murder mystery come together to lead to one pivotal realization for Wednesday. Here is a breakdown of how the macabre teen figured it all out.
[Warning: This article contains spoilers for Wednesday.]
Jenna Ortega as Wednesday solving the murder mystery in 'Wednesday' | via Netflix
'Wednesday' first begins to uncover the truth behind her visions of Goody Addams
Unlike previous versions of the character, Wednesday has supernatural abilities. She has visions, but hers are inclined to be dark due to her disposition. While at Nevermore, the mystery begins when another classmate tries to kill her. Why? His seer mother prophecized Wednesday would be the end of Nevermore. But she is rescued by the heinous monster killing people in Jericho.
Wednesday soon begins her hunt for answers as to why she was in the prophecy. But part of her story also leads her to an ancestor in her visions that looks exactly like her. She soon learns of a secret Nevermore society called the Nightshades from Ms. Thornhill. Using her wits, she uncovers the secret entryway and steals the original journal.
RELATED: 'Wednesday': Jenna Ortega Did Not Want a Love Triangle for Her Character: 'She's Not Boy Crazy'
The other half of the photo shows a man. At Outreach Day, Xavier reveals the man is Joseph Crackstone, the founder of Jericho. But what does it all mean? It comes together when Wednesday sneaks into an off-limits part of the pilgrim museum and sees the same woman in a painting. She is holding a book, later revealed to be a book of spells. Coincidentally, the book was stolen a month ago.
The murder mystery in Wednesday continues when Wednesday has a vision at the old pilgrim meeting house. Her vision in Wednesday introduces her to Goody Addams. She was an outcast but survived when Crackstone burned the others. Later, another vision with Goody leads her to the Gates family.
Morticia and Gomez's past uncovers a murder mystery with the Gates family in 'Wednesday'
The Netflix series storyline takes a detour during parent's day at Nevermore. As the Addams family arrives to see their daughter, she is less than enthused for …
Source:: Showbiz Cheat Sheet
(Visited 1 times, 1 visits today)