Michelle Rodriguez Cried and Threatened to Quit 'The Fast and the Furious' When She Discovered Letty Ortiz's Original Storyline With Dominic Toretto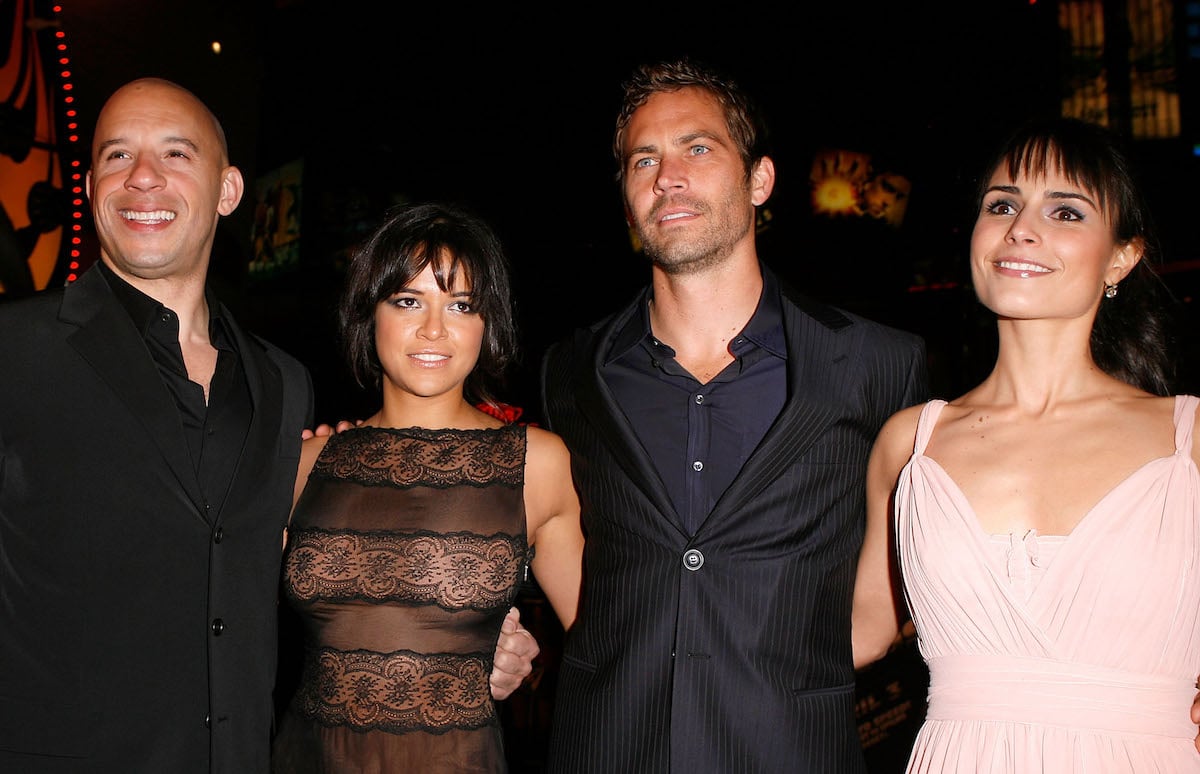 Vin Diesel, Michelle Rodriguez, Paul Walker, and Jordana Brewster at the LA premiere of 'The Fast and the Furious' in 2009 | Jeff Vespa/WireImage
Michelle Rodriguez of The Fast and Furious rose to fame thanks to the franchise's success. However, she almost quit when she disagreed with her character's story arc. Here's a look at her character and the storyline that almost made her leave the movie series that shot her to stardom.
How Letty and Dom came to be in 'The Fast and the Furious'
Dominic Toretto (Vin Diesel) and Letty Ortiz (Rodriguez) have known each other since childhood and formed a friendship based on their mutual love of cars. They began dating as teenagers and are a couple in the first film, The Fast and the Furious.
They work together, stealing high-end electronics and racing illegally. However, by the end of the first movie, Dom and Letty are torn apart when the police learn of Dom's criminal activities, and he goes on the run.
The story arc that had Rodriguez saying, 'I can't do this in front of millions of people'
Vin Diesel, Michelle Rodriguez, Paul Walker, and Jordana Brewster at the LA premiere of 'The Fast and the Furious' in 2009 | Jeff Vespa/WireImage
Rodriguez revealed that the original script for The Fast and the Furious contained a storyline that involved Letty cheating on Dom with Brian O'Conner, played by the late Paul Walker, leading to a love triangle. Rodriquez was incensed at the mere thought of it.
"I basically cried and said, I'm going to quit and, 'Don't sue me, please — I'm sorry, but I can't do this in front of millions of people,'" she told the Daily Beast in 2017. "My whole point in being an actress is that I thought I got to live a dream. And I don't dream about being a slut! Do you?!"
She wasn't alone in her thinking of the character arc. Rodriguez said, "Vin was the first one to pull me to the side while I was crying, and he just looked at me and said, 'I got your back. Chill out and let me handle this, and you're right — it makes me look bad anyway.' And there you go. That was the beginning of the Letty fairytale."
Other Fast & Furious storyline changes 
After Paul Walker's untimely death in 2013, Universal shut down Furious 7 production and took four months to reset. Producers consulted with the cast and crew and moved forward only after all agreed it was time to …
Source:: Showbiz Cheat Sheet
(Visited 6 times, 1 visits today)