'The National Dog Show': John O'Hurley Dishes About 'Beautifully Trained' Dogs Who Are Still Beloved Family Dogs at Heart (Exclusive)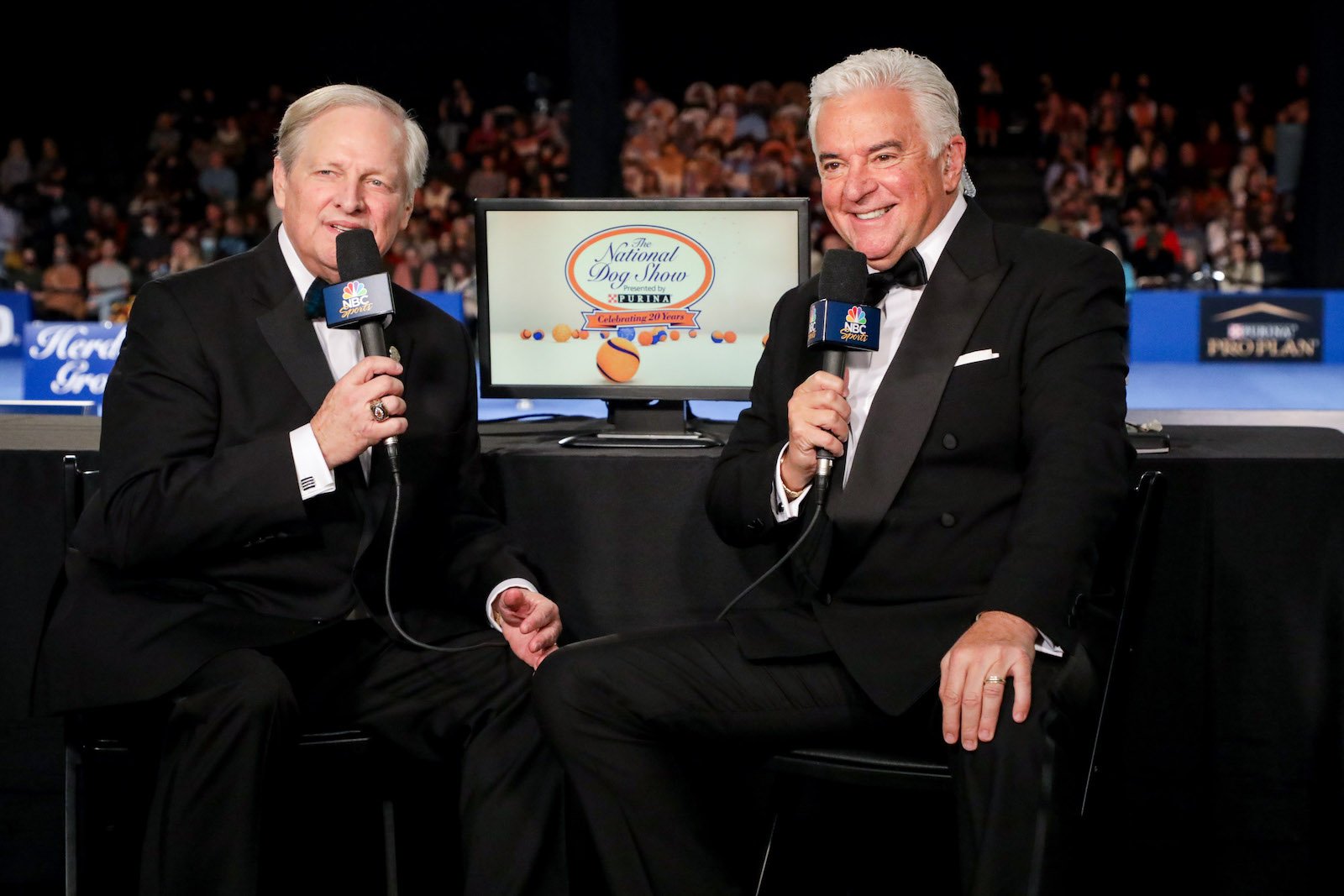 Actor John O'Hurley has proudly hosted The National Dog Show Presented by Purina on Thanksgiving Day since 2002 and recently offered insight into what it's like to personally witness the beauty and majesty of the dogs in the annual event.
He said while the dogs entered in the event are top show dogs they are still the family pet who snuggle on the couch and act like regular dogs when they aren't at work.
'The National Dog Show' dogs still love to cuddle on the couch
"They know how to show," he said in an interview with Showbiz Cheat Sheet. "Because they know what it's like to be in the ring. They are beautifully trained. But when they go home, they're the dogs who sit on the couch. And they drink out of the toilet bowl. They're just dogs being dogs. They are not better behaved, they are the dogs that we all are. And that's what we love about it."
The National Dog Show hosts David Frei, John O'Hurley prepare for 2021 event | Bill McCay/NBC/NBCU Photo Bank
"That's the beauty of it," he continued. "You're always rooting for the alma mater factor. You know, you wanna root for the breed that you have at home. That's been the beauty of the show. And by the way, this will be year number 20. This is our 20th anniversary. We now have over 30 million people who will be watching. It's the most successful event NBC has done. And every year the viewership grows."
Why are Americans so in love with 'The National Dog Show'?
O'Hurley shared why he thinks Americans are so in love with this annual event held on Thanksgiving Day. "Dogs induce a sense of wonder and enjoyment," he said. "You know, all they care about is making us happy."
He added, "[They are] living proof that there are angels on Earth."
Dogs until Two….! https://t.co/AhBMMTX2zh
— John O'Hurley (@ImJohnOHurley) November 25, 2021
Like the dog show viewers, O'Hurley is also a huge fan of dogs. "We have two," he said about his own pups. "I have a Havanese rescue dog." He also has a Cavalier King Charles Spaniel – both breeds show in The National Dog Show. So does he ever consider entering his own dogs in the competition?
"Our dogs at home are absolutely, perfectly entertaining," he remarked. "They have their own personalities. …
Source:: Showbiz Cheat Sheet
(Visited 2 times, 1 visits today)