Camilla Parker Bowles' Son Reveals What He Thinks of the Drama Between Meghan and Harry and the Royal Family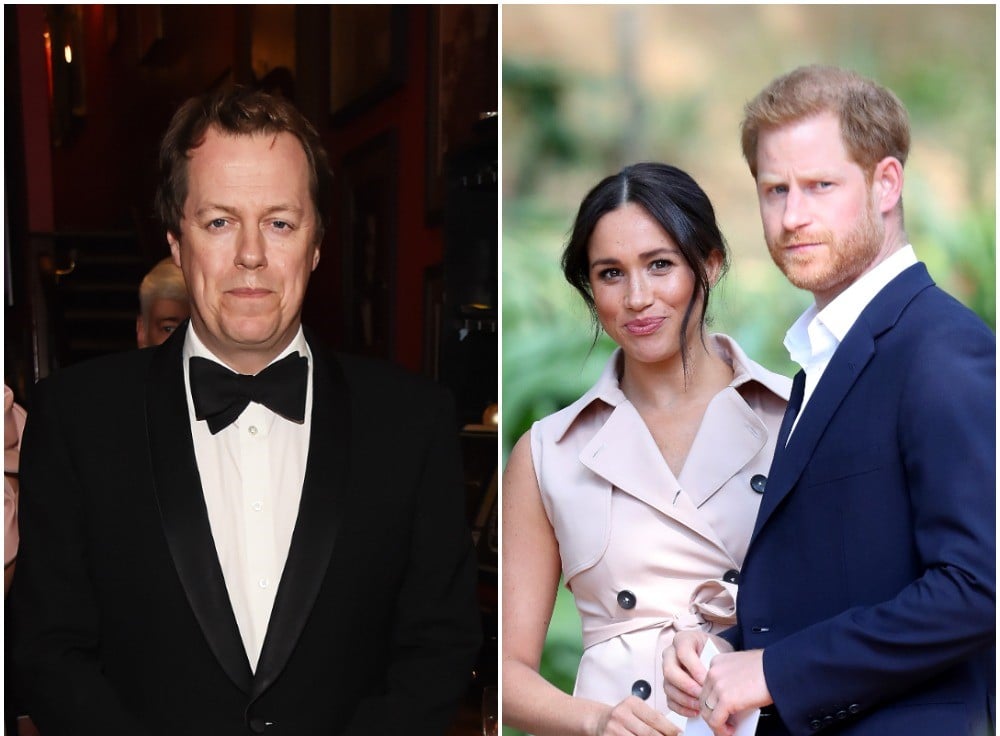 (L) Tom Parker Bowles in a tuxedo at awards ceremony | David M. Benett/Dave Benett/Getty Images, (R) Meghan Markle wearing a beige dress and Prince Harry wearing a blue suit in Johannesburg, South Africa | Chris Jackson/Getty Images
Who is Tom Parker Bowles?
Camilla, Duchess of Cornwall's children aren't in the spotlight as much as Prince William and Prince Harry. Some though may recognize the duchess's son, Tom Parker Bowles, from his appearances on a few cooking shows including MasterChef.
Tom recently spoke to a publication about his mother and Prince Charles when talk turned to his stepbrother, Prince Harry, and Meghan, Duchess of Sussex. Here's what Tom had to say about the drama between the royal family and the Sussexes.
(L) Tom Parker Bowles in a tuxedo at awards ceremony | David M. Benett/Dave Benett/Getty Images, (R) Meghan Markle wearing a beige dress and Prince Harry wearing a blue suit in Johannesburg, South Africa | Chris Jackson/Getty Images
Who is Tom Parker Bowles?
Tom is the only son of Camilla and her ex-husband Andrew Parker Bowles. He is a food critic and author of several cookbooks.
"I loved eating and could just about string a sentence together, so I thought I could write about food," Tom previously said about how he chose his career.
Tom married Sarah Buys in 2005 and they had children together. They separated in 2018 and he began dating former journalist Alice Procope. They were together for almost two years before she died of cancer on March 17, 2021.
He is close with his stepdad Prince Charles
Prince Charles and Camilla Parker Bowles' wedding photo next to Camilla's son, Tom Parker Bowles, and daughter, Laura Lopes | © Pool Photograph/Corbis/Corbis via Getty Images
Tom has stated that he is close with his stepfather and told The Times that his kids call the Prince of Wales "Umpa."
The restaurant critic has talked about his relationship with Charles in the past as well and said that he is delighted at how happy the prince makes his mom.
"All you care about with your parents is they're happy and my mother is exceptionally happy. I've always adored my stepfather; he's always been a kind and good and lovely man," Tom explained (per Hello!). "He is a man of warmth, intelligence, and humanity and I think if it ever happens, he will make a fantastic king."
RELATED: Will Prince Charles Retire While His Mother Is Still Queen? Camilla Makes Rare Comment About Their Retirement Plans
What Tom said about the royal family and the Sussexes' drama
Prince Harry and Tom Parker Bowles seated next to each other during …
Source:: Showbiz Cheat Sheet
(Visited 6 times, 1 visits today)