'Summer House': Luke Gulbranson Says Des Bishop 'Rubs Me the Wrong Way'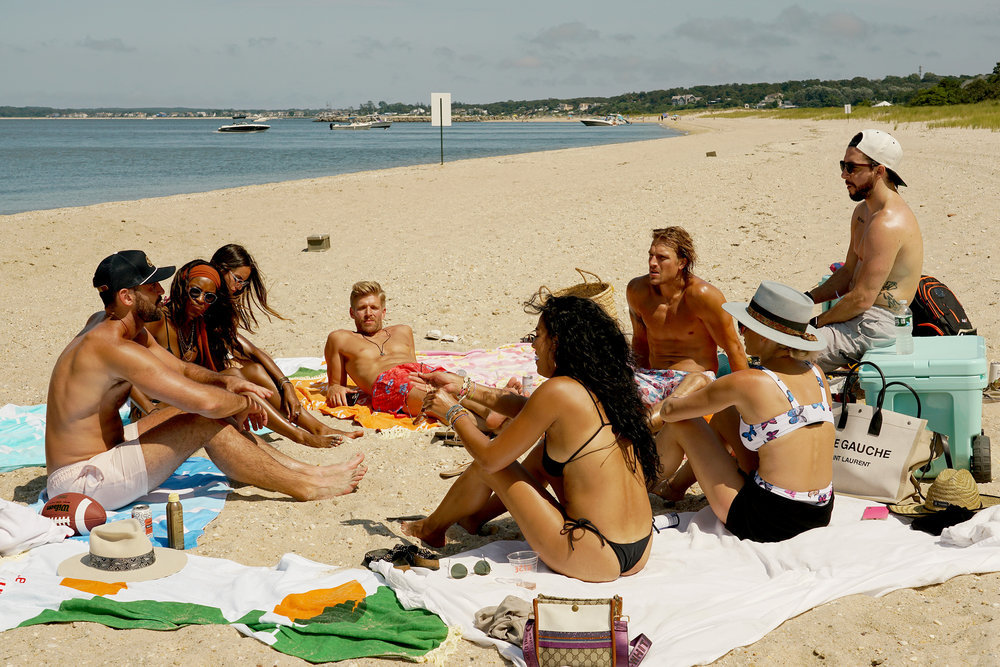 Is Luke Gulbranson from Summer House jealous or is he truly concerned about Hannah Berner's relationship with Des Bishop?
Gulbranson friendzoned his relationship with Berner this summer. So while he claims to be happy she found love, he still isn't sure about Bishop. "So what are your thoughts on Des," Carl Radke asked the group around a campfire.
"It's hard for me to have an opinion on Des when I haven't had a real conversation with him," Gulbranson replied. "But based off of the little bit of talk we've had and how he carries himself. He kind of rubs me the wrong way."
Carl Radke, Ciara Miller, Hannah Berner, Kyle Cooke, Danielle Olivera, Luke Gulbranson, Stephen Traversie |True Entertainment/BravoWhat does the house think of Des Bishop?
Gulbranson also can't wrap his head around Berner's dating timeline. She came for him when he told her they never dated and that he wasn't interested in her romantically. "I don't know, my thing is man, they were clearly seeing each other prior to all of us coming and spending our time together," Gulbranson continued. "But yet, Hannah was worried about me."
The rest of the cast also weighed in with their opinions of Bishop. "I feel like he's the male version of her," Paige DeSorbo said.
This psychic got us playing out an epic love story between Lindsay and Luke in our heads. Visit https://t.co/RHDv6FRLWv for more #SummerHouse after show content! pic.twitter.com/rcECdxq8zt
— Bravo (@BravoTV) March 26, 2021
RELATED: 'Summer House': Luke Gulbranson Got the Impression Hannah Berner Was Dating Someone Before Filming Started
"He seems like a lot calmer than Hannah," Amanda Batula observed. DeSorbo added that Bishop is very "engaged and present." Batula and DeSorbo agreed that Bishop is completely different than Gulbranson.
Previews show Berner asking Gulbranson if he likes Bishop. But Gulbranson doesn't seem to be a fan. Plus the women in the house share they haven't had much interaction with Bishop either.
So was there a relationship overlap?
Gulbranson had a revelation during dinner at the house. He asked Bishop how he and Berner met and Bishop may have offered more information than Berner would have liked. "I was following her for quite a while," Bishop said. "I noticed that she was isolating on Shelter Island. And I just said, oh I'm out this way …
Source:: Showbiz Cheat Sheet
(Visited 3 times, 1 visits today)