Nicolas Cage's preference is to just hang out in Las Vegas with his cats & his crow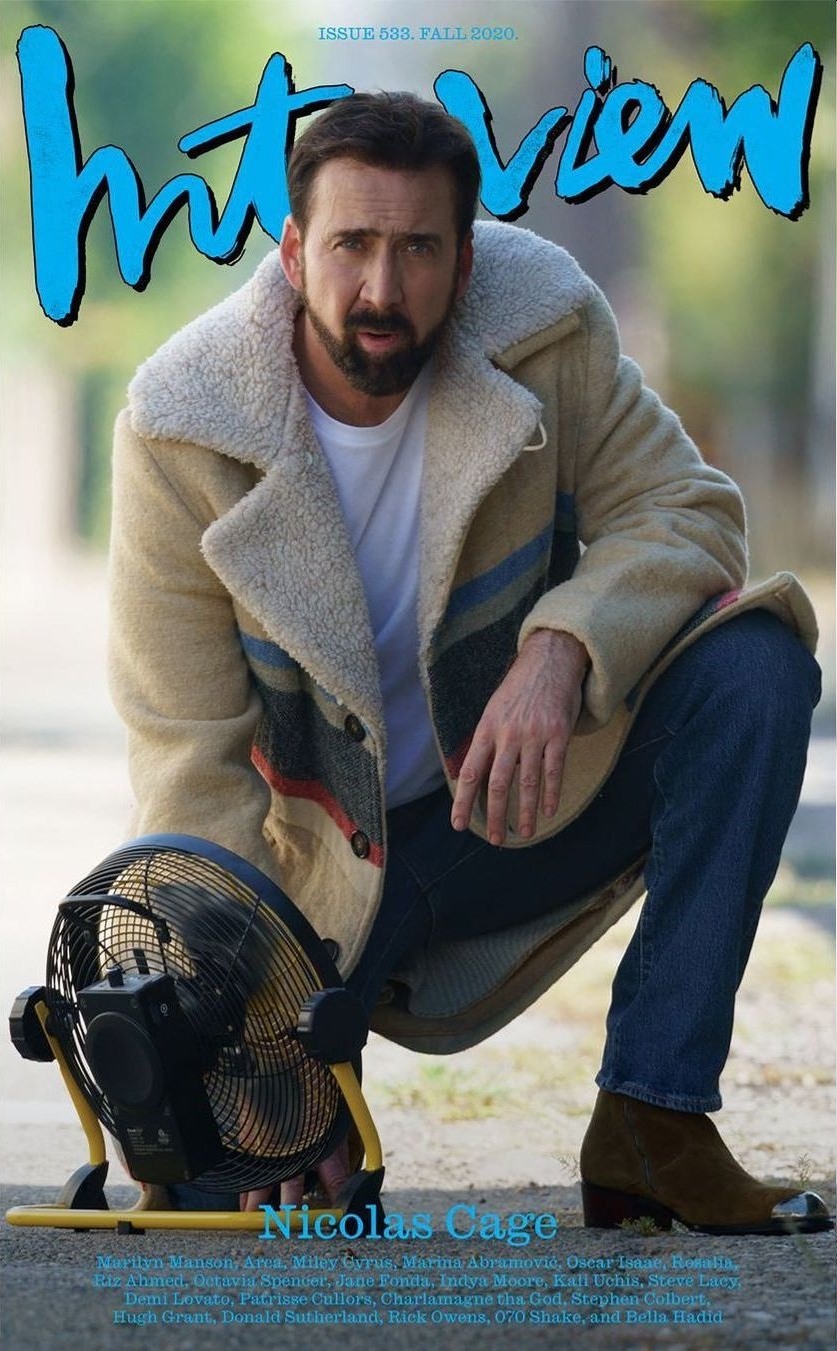 If you don't mind wading through pages and pages of crap, you'll probably enjoy Nicolas Cage's Interview Magazine cover interview. It was conducted by his friend Marilyn Manson and it is, as they kids say, A LOT. That being said, Nick doesn't come across as particularly bad here. He's not evil or gross or a total douchebag. He comes across as a profoundly offbeat character who does weird sh-t just to scratch that itch. Cage is promoting his role as Joe Exotic, which is filming right now, apparently. He's also working on The Unbearable Weight of Massive Talent, where he plays "a cash-strapped version of himself." I think he's also promoting some of his various direct-to-streaming/VOD projects, all of which are low-budget and barely seen. So… you can read the full piece here. Some highlights:
He surrounds himself with animals: "That's why I like to surround myself with reptiles and fish and cats. I just bought a crow. His name is Huginn, after one of [the Norse god] Odin's two ravens, Huginn and Muninn, and he's amazing….he's an African pied crow. He says "hi" when I walk into the room and "bye" when I leave. The other morning he started laughing and called me an a–hole. I'm trying to figure [out why he called me that]. He likes to eat cat food, which makes it easy, because I give my cats Sheba Perfect Portions, and Huginn enjoys it as well. I think he has a sense of humor, so maybe that's why he called me an a–hole.
Manson offers to come to Vegas to spoon him: "I appreciate the offer, but I'm actually great with my cats. I don't mind watching a movie with you, though. We were good buddies with Johnny Ramone, and we would all hang out at his house. Do you remember that time I had that mummy's hand with tattoos on it?… It was an actual hand."
His magic number: "Seven. It's kind of cliché, but the number has had power for me. If you want to walk down the road of the esoteric, what's always been most powerful to me is something as simple as blowing out candles on a birthday cake. I really take those wishes seriously. It's almost like a meditation. And more often than not, those wishes have come true.
Whether he's a gambler: "The last …
Source:: Cele|bitchy – News
(Visited 2 times, 1 visits today)