Aaron Sorkin's New Netflix Film Is Like the Anti–West Wing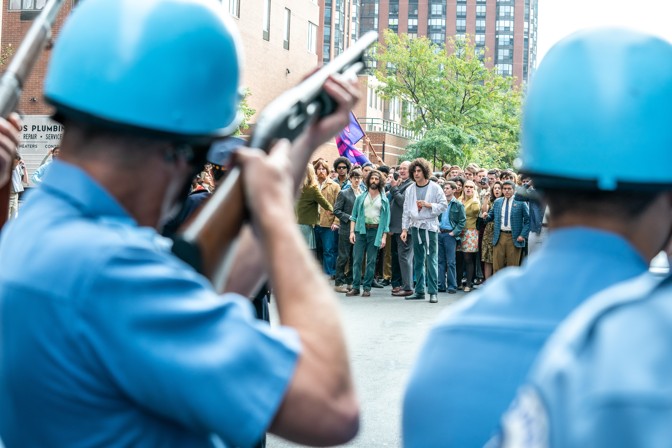 The Trial of the Chicago 7 is a courtroom drama where no one—neither the characters, nor the viewers—expects that justice will be done. When the defendants take their seats at the start of Aaron Sorkin's new Netflix film, the audience already knows the charges against them are ludicrous and the result of a political vendetta. The opening scene shows Richard Nixon's Attorney General John Mitchell (played by John Doman) ordering the prosecutor Richard Schultz (Joseph Gordon-Levitt) to get convictions against protestors from the 1968 Democratic convention, no matter how far he has to stretch the law.
As the writer and director, Sorkin is telling the right story for the right moment. The Trial of the Chicago 7 is debuting less than a month before Election Day, amid complaints that President Trump's Justice Department has been deployed as a political tool. The historical drama depicts how a famous protest turned into a bloody police riot, imagery that resonates all the more viscerally after a summer full of headlines and videos underlining the pervasiveness of police brutality in America. Despite its period setting, The Trial of the Chicago 7 has a timely and timeless message: that Americans can't always count on their leaders to pursue the noble aims of truth and liberty.
[Read: The double standard of the American riot]
Sorkin's latest brings together an ensemble of sterling character actors to chronicle a critical but strange moment in counter-cultural history. The Chicago 7 were an amalgam of political activists from various groups who had participated in the 1968 protests, including the student leader Tom Hayden (Eddie Redmayne), the radical pacifist David Dellinger (John Carroll Lynch), and the anarchic "Yippies" Abbie Hoffman (Sacha Baron Cohen) and Jerry Rubin (Jeremy Strong). Bobby Seale (Yahya Abdul-Mateen II), the co-founder of the Black Panther Party, was initially an eighth defendant, though his case was eventually severed from the trial. Even though many of them barely knew each other, they were charged by the Nixon administration with conspiracy and incitement to riot. They were presented to the public as a grab-bag of undesirables, all intent on disrespecting authority and their country in their own ways.
The Trial of the Chicago 7 flits forward and backward in time with practiced ease, revisiting the events of the protests bit by bit as the trial drags on. (Nico Tavernise / Netflix)
Sorkin is, of course, quite adept at courtroom …
Source:: West Wing
" >The Atlantic – Culture
(Visited 2 times, 1 visits today)