'Space Jam' and The Saga of Sequels that Almost Happened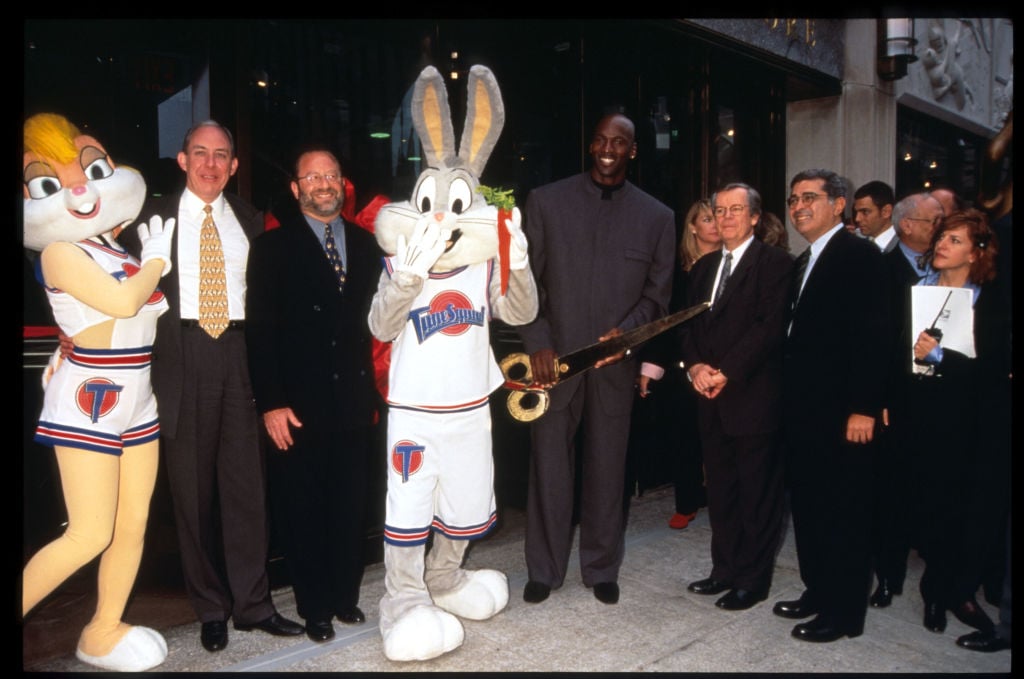 Space Jam 2 has been in the making for nearly 25 years. Although the original movie was a big success in 1996, it took LeBron James, Ryan Coogler, and a whole lot of nostalgia to get the sequel off the ground. However, that does not mean that there weren't several attempts to get a sequel off the ground after the first one hit theaters in 1996. The details of potential sequels are a fascinating journey into the minds of the original film's makers.
Bugs and Lola Bunny, Michael Jordan, and Warner Bros. executives stand in front of the Warner Bros. Studio store | Evan Agostini/Liaison/Getty ImagesSpace Jam 2
RELATED: Will Michael Jordan Be in 'Space Jam 2′?
Originally, there were plans to have a traditional sequel to Space Jam, according to Animated Views. Joe Pytka, who directed the original film, was on board for a sequel, and Warner Brothers was excited to learn from an unnamed producer that Michael Jordan was ready to sign on for another movie. There was only one problem, however. Jordan never signed on, and the sequel quickly fell apart before it ever left the ground.
The movie would have had Jordan and the Looney Tunes face off against a villain called Berserk-O. Berserk-O was designed to look like Mel Brooks, who was also their choice to play the villain. Not much else is known about this particular sequel, however. After Jordan let it be known that he would not return to the franchise, several other sequels were proposed.
Race Jam
Around the turn of the century, Warner Brothers wanted to cash in on their moneymaking property, according to Movie Fone. Among their first ideas for a sequel was one that would have pit Bugs Bunny and the game against legendary race car driver Jeff Gordon. Not much is known about the proposed plot of the movie, but it shows a formula that Warner Bros. continued emulating through several failed sequel ideas.
At the time, Jeff Gordon was the biggest name in racing, and Warner Bros. was banking on a name that could draw like Michael Jordan. Whether it was Gordon's regression or a change of heart, however, the movie never got off the ground.
Spy Jam
In 2001, Jackie Chan was not only an international star at the box office, but he was also the star of his own …
Source:: Showbiz Cheat Sheet
(Visited 5 times, 1 visits today)