Why the 'Center Stage' Director 'Didn't Want an Actor' for the Lead Role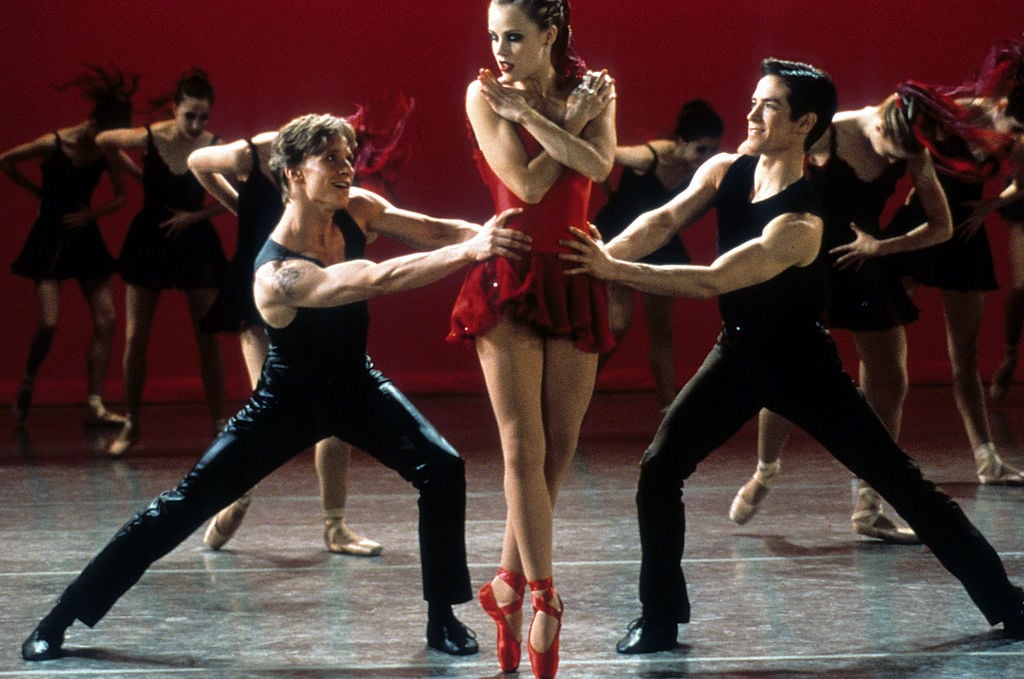 Ethan Stiefel, Amanda Schull, and Sascha Radetsky dance onstage in a scene from the film Center Stage | Columbia Pictures/Getty Images
The 'Center Stage' lead cast member was a true ballerina herself
After its debut in 2000, the movie Center Stage become one of the most legendary dance movies of all time. The story of a hopeful young ballerina in New York City could not have been told correctly without a lead who knew the drill when it came to dance. Amanda Schull, who played the protagonist in Center Stage, was a trained dancer — and in many ways, that was more important to the director than her acting skills.
Ethan Stiefel, Amanda Schull, and Sascha Radetsky dance onstage in a scene from the film Center Stage | Columbia Pictures/Getty ImagesThe 'Center Stage' lead cast member was a true ballerina herself
Entertainment Weekly interviewed the star of Center Stage, dancer/actress Amanda Schull, for the 20th anniversary of the film. While the 2000 movie wasn't exactly a "box office smash" at the time of its release, for dancers across the country, it became "a beloved cult phenomenon." Part of the reason? Center Stage is one of the few dance movies that depicted the ballet world accurately.
"I was cast because Nick wanted to get ballet right," Schull revealed. Rather than an actor who had dance training, the director Nicholas Hytner sought after a true ballerina.
"He didn't want an actor," Schull told the publication. The movie studio was more in favor of an actor who could be replaced with a body double for the more technically difficult scenes. But that proved impossible early on.
"They actually went through a substantial list of actors who said that they could dance and realized quickly that it wasn't going to work that way," Schull told EW. The publication reported:
Schull — who had been dancing since the age of 3 and had just accepted a contract with the San Francisco Ballet at the time when she was offered the lead role as Jody Sawyer in Center Stage — credits Hytner's determination to cast actual ballet dancers for the film's long-lasting legacy as a real homage to dance.
Amanda Schull credits the director Nick Hytner for his casting in the 2000 dance movie
"He was a huge ballet fan," the Center Stage lead explained of Hytner. While many other dance movies have suffered due to substandard acting — or dancing — Center Stage toed that line very carefully.
"Somebody else who didn't know ballet or wasn't a fan of dance or didn't understand it probably would have hired someone …
Source:: Showbiz Cheat Sheet
(Visited 4 times, 1 visits today)