'The Office': Jim and Pam's First Kiss Was Recreated for Season 3 With Small Changes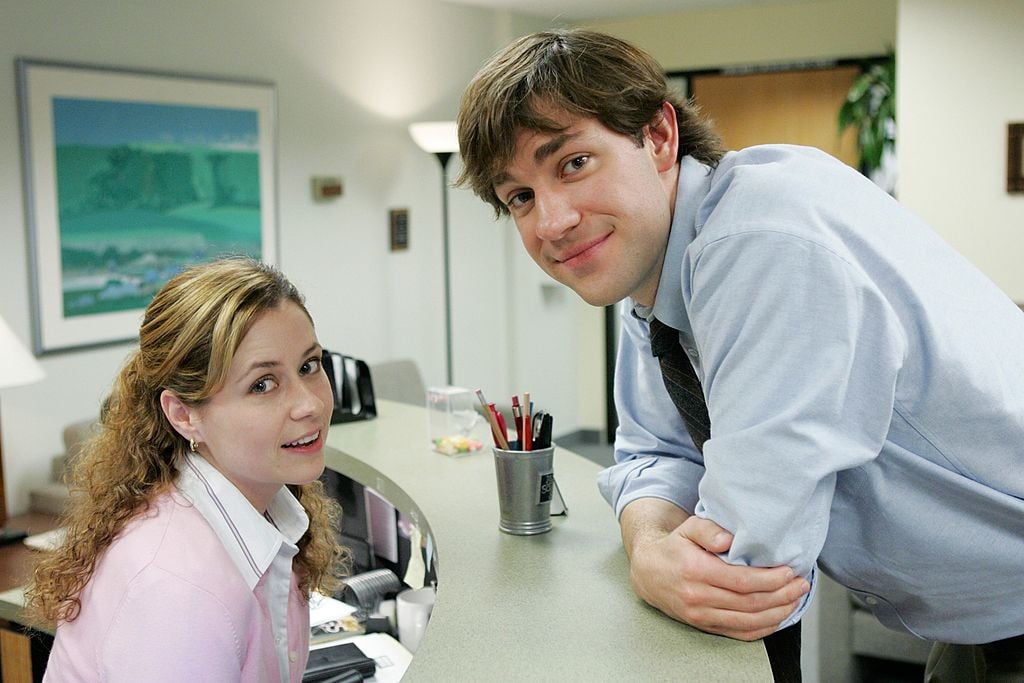 Jenna Fischer as Pam Beesly and John Krasinski as Jim Halpert on 'The Office' | Chris Haston/NBCU Photo Bank
Season 2 of The Office had a major cliffhanger with Jim (John Krasinski) and Pam (Jenna Fischer) having their first kiss. The next season starts with Jim working in the Stamford office, but we revisit what happened that night.
Fischer said their first kiss had to be recreated. Find out about the work that went into filming the scene and what they changed.
Jim and Pam's first kiss on 'The Office' was a surprise
RELATED: 'The Office': Jenna Fischer Reveals Which Scene Was the Hardest to Get Through Filming 'Dinner Party'
"Casino Night" showed Jim finally having the courage to tell Pam that he has feelings for her. "I'm in love with you," he tells her. "I'm really sorry if that's weird for you to hear but I need you to hear it." Pam eventually interrupts him and says, "I can't."
At first you think things will end there but Jim later catches her in the office when she's on the phone with her mom. Krasinski and Fischer talked about filming this scene on Office Ladies. Krasinski said that was his first kiss on screen.
Some fans might have wondered what Pam's mother was saying on the phone because we don't hear her. Fischer revealed that she created lines for that side of the conversation to co-star Angela Kinsey.
"Well, I'll tell you this guys, there was no one on the other line," she said. "I was just pretending."
She created lines to give better reactions. One of the lines was Pam's mother asking, "'Well sweetie, are you in love with him?" Fischer said. "And then I answered, 'Yeah mom, I think I am.'"
Jim and Pam's kiss was recreated
Jenna Fischer as Pam Beesly and John Krasinski as Jim Halpert on 'The Office' | Chris Haston/NBCU Photo Bank
RELATED: 'The Office': Angela Kinsey Says Creed Would Make John Krasinski 'Disintegrate'
"Gay Witch Hunt" shows what happened after Jim and Pam kissed. But that wasn't filmed on the same day as their scene from "Casino Night."
Fischer and Kinsey talked about how they needed to recreate the scene on Office Ladies. "Guys, we had to recreate it," Fischer revealed. She said it helped that they had the same director for both episodes.
Photos of all the sides of Fischer's head were taken to style her hair the same way. They added a new camera angle for the new episode with a …
Source:: Showbiz Cheat Sheet
(Visited 6 times, 1 visits today)