'Ozark' Is Heading Toward a 'Game of Thrones' Level of Popularity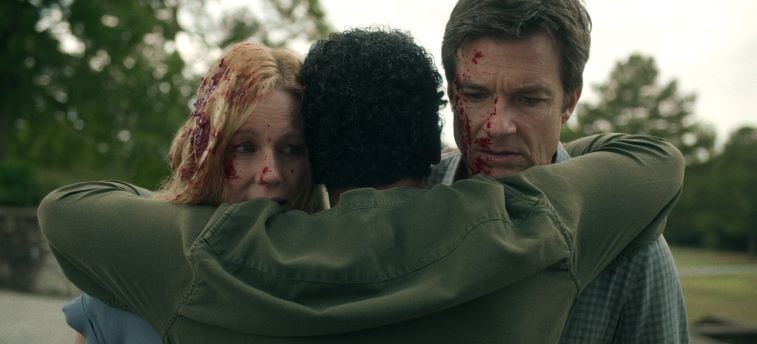 'Ozark' Laura Linney and Jason Bateman in a 'Game of Thrones' type of death scene | Netflix
Fans feel that 'Ozark' could be the new 'Game of Thrones'
"Everyone is talking about similarities between Ozark and Breaking Bad, but I see a lot of parallels between this show and the Game of Thrones," one
Netflix's crime drama, Ozark, featuring Jason Bateman, Laura Linney, and Julia Garner, dropped season 3 on March 27, 2020. It's two months later, and fans still cannot stop talking about it. Some viewers believe that Ozark is diving into the realm of a Game of Thrones level of popularity.
'Ozark' Laura Linney and Jason Bateman in a 'Game of Thrones' type of death scene | NetflixFans feel that 'Ozark' could be the new 'Game of Thrones'
"Everyone is talking about similarities between Ozark and Breaking Bad, but I see a lot of parallels between this show and the Game of Thrones," one Reddit user wrote.
Although the two shows are set in totally different eras, fans point out that people are always plotting against each other behind their backs.
"Players are constantly switching sides," continued the Redditor. "People JUST DIE."
RELATED: Is 'Ozark' The New' Breaking Bad'?
The writers of Ozark have no qualms about killing off main characters, much like Game of Thrones. Each season of Ozark brings several new deaths, and fans are getting used to it. Some scenes mimic Game of Thrones, according to supporters.
"There was a shot of Helen [Janet McTeer] looking over her yard and the lake smoking a cigar, and that just screams Cersei Lannister (Lena Headey) drinking her wine," another fan added.
Fans also compared Frank Cosgrove Jr.(Joseph Sikora) to Joffrey Lannister (Jack Gleeson) as well as Darlene Snell (Lisa Emery) to Cersei Lannister.
'Ozark' beat 'Game of Thrones' in two Emmy categories in 2019
Many people were shocked at the Emmy wins that Ozark garnished over Game of Thrones in 2019. Ozark was nominated in five categories and won in two of those. Julia Garner won outstanding supporting actress over many Game of Thrones stars, according to Daily Dot.
Ozark's Jason Bateman won the Emmy award for outstanding directing in a drama series over three Game of Thrones directors' nominations.
View this post on Instagram
Never negotiate without knowing the numbers. #OzarkS3
A post shared by OZARK (@ozark) on May 6, 2020 at 1:01pm PDT
RELATED: 'Ozark': Jason Bateman Did Not …
Source:: Showbiz Cheat Sheet
(Visited 4 times, 1 visits today)