'Full House': 25 Years After the Series Finale, Michelle's End is More Apt Than Ever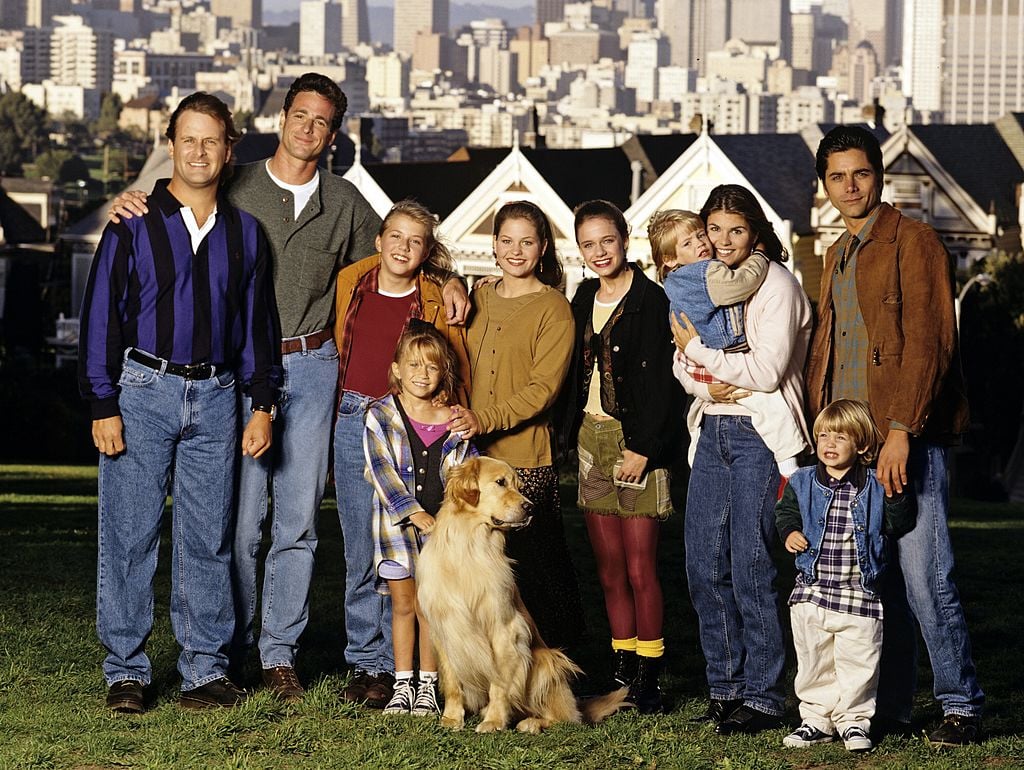 The cast of 'Full House' Season 7: Dave Coulier, Bob Saget, Jodie Sweetin, Mary-Kate Olsen, Candace Cameron, Andrea Barber, Blake Tuomy-Wilhoit, Lori Loughlin, Dylan Tuomy-Wilhoit, John Stamos. | Craig Sjodin/Walt Disney Television via Getty Images
Full House follows a not-quite-nuclear family, made up of father Danny Tanner (Bob Saget); his daughters D.J. (Candace Cameron), Stephanie (Jodie Sweetin), and Michelle (
On May 23, 1995, the popular '80s and '90s sitcom Full House came to an end. And for one character, that finale was a traumatic experience. Since Michelle Tanner didn't continue her arc on Fuller House like the rest of her family, here's a theory as to why that appearance exactly 25 years ago was her last.
'Full House' completed its eight-season run 25 years ago
The cast of 'Full House' Season 7: Dave Coulier, Bob Saget, Jodie Sweetin, Mary-Kate Olsen, Candace Cameron, Andrea Barber, Blake Tuomy-Wilhoit, Lori Loughlin, Dylan Tuomy-Wilhoit, John Stamos. | Craig Sjodin/Walt Disney Television via Getty Images
Full House follows a not-quite-nuclear family, made up of father Danny Tanner (Bob Saget); his daughters D.J. (Candace Cameron), Stephanie (Jodie Sweetin), and Michelle (Mary-Kate and Ashley Olsen); his brother-in-law, Jesse (John Stamos); and his best friend, Joey (Dave Coulier). The latter two come to live with him after the death of his wife, Pamela, to help him raise his children.
Over time, the family grows. By the end of the series, living in one of San Francisco's famed Painted Ladies are the aforementioned six, plus Jesse's wife, Becky (Lori Loughlin), and their twins, Nicky and Alex (Blake and Dylan Tuomy-Wilhoit). The cast was filled with assorted side characters including D.J.'s best friend, Kimmy (Andrea Barber)
In the series finale, Michelle loses her memory
RELATED: How Will 'Fuller House' Season 5 Explain Michelle's Absence at Her Sisters' Wedding?
Not only did the family expand, but, naturally, they grew up. At the beginning of the series, Michelle is just a baby. Like many very young children, she was portrayed by twins. However, actors Mary-Kate and Ashley Olsen were 8 years old by the time the series ended, so the writers came up with creative ways to put both on screen.
Take the series finale, for example. While horseback riding, Michelle falls off and hits her head. In what is one of the show's darker episodes, she spends most of it acting cold toward her family, having lost her memory. But in the final moments, her memory comes back to her — in physical form (see the video above).
Years later, the spinoff series, 'Fuller House' came to be
View this post on Instagram
Is someone chopping onions? ICYMI, the full trailer has …
Source:: Showbiz Cheat Sheet
(Visited 5 times, 1 visits today)