Doja Cat Gets 'Canceled' After Being Exposed for Alleged History of Racist Remarks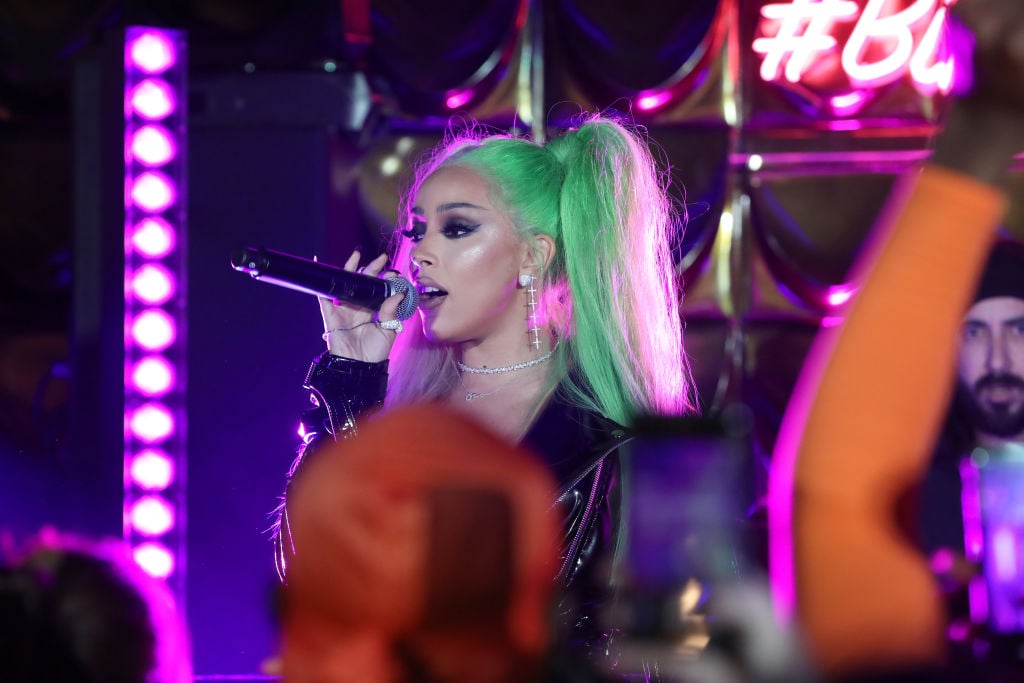 Doja Cat performing at a show in January 2020 | Ari Perilstein/Getty Images for Atlantic Records
The Doja Cat controversy explained
The drama started when someone tweeted a throwback photo that allegedly shows Doja Cat engaging in racist conversations on TinyChats. The picture then led to the creation of a thread on Lipstick Alley where supposed viewers detailed Doja Cat's alleged conversations on the website, per
Doja Cat has been killing it in her career lately. Since breaking out with 2018's "Mooo!," she has continually churned out hits and continues to grow her fan base. But her ascent to stardom has not been without bumps along the way. The "Say So" rapper often attracts controversy for her problematic tweets and outspoken opinions.
The latest drama came on May 22 when she got exposed over her alleged history of making racist remarks. Upon hearing about it, Twitter users began dragging and dismissing the "Juicy" crooner through the #dojacatisoverparty hashtag.
Doja Cat performing at a show in January 2020 | Ari Perilstein/Getty Images for Atlantic RecordsThe Doja Cat controversy explained
The drama started when someone tweeted a throwback photo that allegedly shows Doja Cat engaging in racist conversations on TinyChats. The picture then led to the creation of a thread on Lipstick Alley where supposed viewers detailed Doja Cat's alleged conversations on the website, per The Daily Dot.
They claimed she allegedly watched idly as others made racist statements and laughed when they made racist jokes. Someone also claimed that Doja Cat allegedly talked about not wanting to be black but said she was glad to at least be light-skinned with a big butt. (Actual footage of several conversations has since popped up on Twitter.)
Doja Cat, whose real name is Amalaratna Zandile Dlamini, was born to a Jewish American mother and South African father (from whom she is estranged). As of writing, she has not addressed the matter.
View this post on Instagram
There we go..
A post shared by Doja Cat (@dojacat) on Apr 17, 2020 at 3:46pm PDT
RELATED: Doja Cat's Father Dumisani Dlamini Gains Attention From Her Fans, But Who is the Actor?
The reactions to Doja Cat's alleged remarks
Fans are seriously disappointed to hear this news about Doja Cat and took to websites such as Twitter to share their reactions.
One person tweeted: "I really liked doja cat and genuinely wanted her to succeed im so sad."
Echoing that, another person wrote: "I really gotta cancel doja I wasn't prepared for this."
"she low key gave me that vibes though," a third person added.
Another Twitter user pointed out Doja Cat's song "Dindu Nuffin," a …
Source:: Showbiz Cheat Sheet
(Visited 229 times, 3 visits today)