Amy Poehler Recalls Her First 'Saturday Night Live' Episode — Just Weeks After Sep. 11, 2001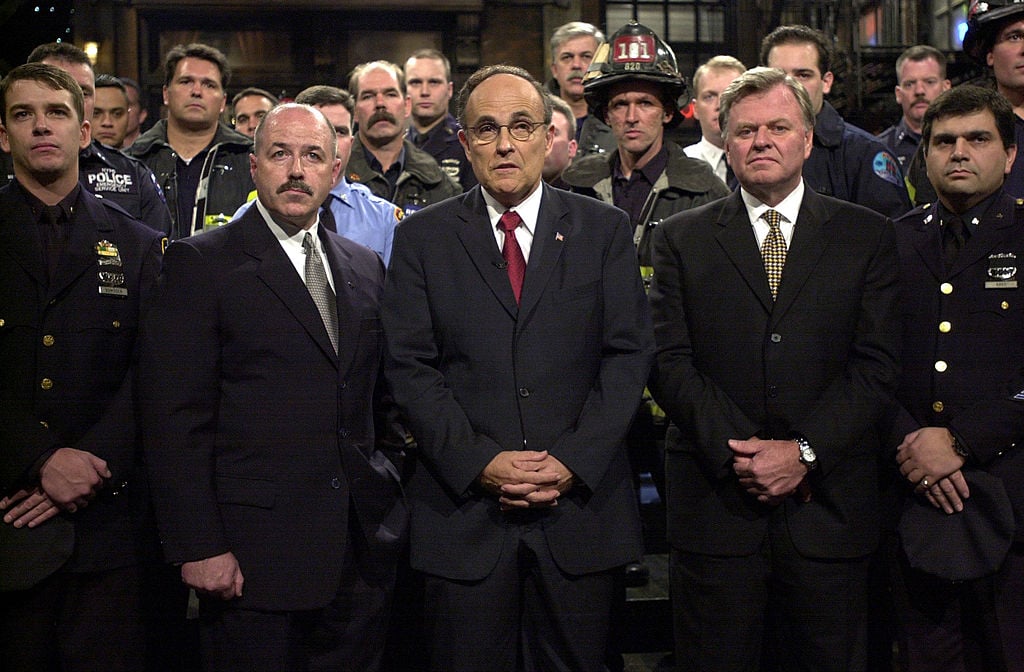 Members of the New York Fire Department, New York Police Department, and the Port Authority Police Department during the SNL "9/11 Tribute" on September 29, 2001 | Dana Edelson/NBCU Photo Bank/NBCUniversal via Getty Images
Tom Hanks was the first celebrity to host Saturday Night Live at Home. While the country deals with a pandemic-related lockdown, SNL got creative, and produced series without an official filming location. Amy Poehler, who once appeared on the Saturday comedy series, recently shared in an interview about her first night performing on Saturday Night Live.
'SNL' alum Amy Poehler on her comedy theater closing due to the coronavirus pandemic
Members of the New York Fire Department, New York Police Department, and the Port Authority Police Department during the SNL "9/11 Tribute" on September 29, 2001 | Dana Edelson/NBCU Photo Bank/NBCUniversal via Getty Images
RELATED: Upright Citizens Brigade, the Improv Theater Co-Founded by Amy Poehler, Is Closing Its New York Location
Years ago, the actress/comedian Amy Poehler co-founded a comedy theater called Upright Citizens Brigade. Sadly, the theater recently had to close its New York City locations due to the COVID-19 pandemic. The founders of the theater wrote a message to their community to explain the decision.
"Even in a normal, robust economy, we have barely been able to pay the high rents in New York City," the UCB 4 wrote in an email to their community.
Former 'SNL' cast member Amy Poehler discusses comedy theater closure
Amy Poehler in 2013 | Jason Merritt/Getty Images for CDG
Poehler and her fellow UCB co-founders (Matt Besser, Ian Roberts, and Matt Walsh), explained their strategy to the Hollywood Reporter.
"Every move is to make sure UCB survives and hopefully, in the future, thrives," Poehler said. "We're not ruling anything out." The Saturday Night Live alum emphasized how much she wants to keep Upright Citizens Brigade open.
"We're really trying to keep it alive, because it means a lot to so many people and we want them to know it means a lot to us," Poehler explained. She went on to say that the co-founders are looking to other venues to continue supporting their UCB students and performers.
Poehler says she loved 'Saturday Night Live at Home', and the episode reminded her of her first show
Amid the COVID-19 pandemic, current Saturday Night Live cast members have been filming their bits from the comfort of their own home.
"I teared up a little watching the SNL at Home opening titles," Hollywood Reporter's journalist revealed.
"I kind of loved it, too!" Poehler replied. The SNL alum remembered that her very first episode of Saturday Night …
Source:: Showbiz Cheat Sheet
(Visited 6 times, 1 visits today)