'Ghost Hunters' Spinoff is a 'Train Wreck' According to Fans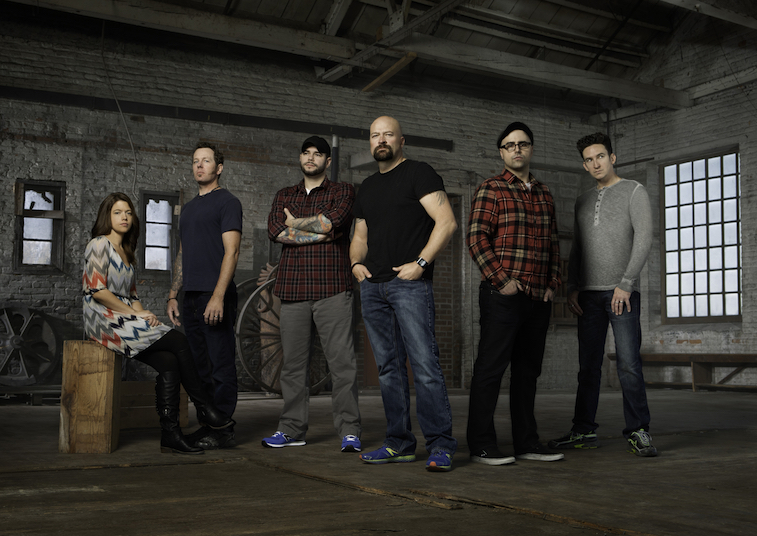 Samantha Hawes, KJ McCormick, Steve Gonsalves, Jason Hawes, Dave Tango, Dustin Pari | Michael Cogliantry/Syfy/NBCU Photo Bank
The reality TV show Ghost Hunters brought paranormal investigation into the mainstream. The hunters on the show showed off some high tech ways of discovering the sources of strange happenings. Their scientific methods had even skeptics believing that something is out there.
Since the original was such a hit, Ghost Nation, which features most of the same hunters, should be a fan favorite. But Jason Hawes and his team may not be winning over all of Ghost Hunters' diehard fans. Some fans on reddit are unhappy with the new series. They're not sure Hawes was the right guy for the job.
Who is Jason Hawes?
Samantha Hawes, KJ McCormick, Steve Gonsalves, Jason Hawes, Dave Tango, Dustin Pari | Michael Cogliantry/Syfy/NBCU Photo Bank
RELATED: Kim Kardashian West's Daughter Chicago Is Convinced She's a Ghost
Like most paranormal investigators, the Ghost Nation crew is an interesting bunch. Hawes was part of the original. Ghost Hunters show on the SyFy channel. He and Grant Wilson, Steve Gonsalves and Dave Tango created a new genre of television with the series. It's sparked many similar shows, and boasted an impressive 11 season run.
Now Hawes is back, and this time he's taking the lead. While Wilson does occasionally appear on Ghost Nation, Hawes is the star this time. He has a lot of experience in the ghost hunting industry. He's worked for law enforcement, religious organizations, and even the government. Of course, he takes cases from private citizens and well, when he can find the time.
That's probably not often. He has written six bestselling books, and started The Atlantic Paranormal Society. With his work for TAPS, his books, and now filming for Ghost Nation, it's hard to imagine he has much time to spare for private clients.
With all this experience, fans expected Ghost Nation to be an exciting show. After all, it's billed as a kind of reboot of Ghost Hunters. The original is what got most fans in to paranormal investigating in the first place. But for some Reddit fans, Hawes has missed the mark.
Fans think 'Ghost Nation' lacks depth
Studying the paranormal is hardly a superficial activity. Discovering the source of strange happenings takes skill, bravery, and perseverance, as well as an understanding of the nature of spirits.
Hawes may have the prerequisite experience, but for fans, he's not able to translate that into a compelling show. …
Source:: Showbiz Cheat Sheet
(Visited 5 times, 1 visits today)