'The Bachelor': Kelley Flanagan and Peter Weber's Suspected Relationship Might Explain Why She Attended the Show's Finale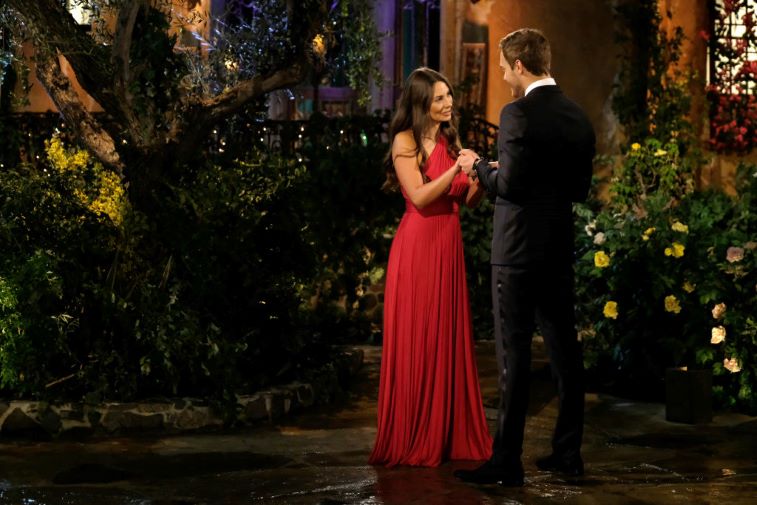 Peter Weber and The Bachelor producers have a lot of explaining to do. During the finale, Weber broke up with Hannah Ann Sluss and confessed his love to Madison Prewett.
However, on night one of the two-part finale, Chris Harrison said it was "important" that Kelley Flanagan was in the audience. Fans think they finally know what happened now that pictures of Flanagan and Weber are surfacing all over social media.
Kelley Flanagan and Peter Weber | John Fleenor/ABC via Getty Images'The Bachelor' Peter Weber and Kelley Flanagan were spotted together on March 25, 2020
The updates on Weber's season keep coming. Two days after the season finale, Weber and Prewett both took to Instagram to announce their breakup.
"Madi and I have mutually decided to not pursue our relationship any further," Weber wrote on social media. "Believe me this was not easy for either of us to be ok with, but after a lot of honest conversations, we have agreed that this is what makes most sense for the two of us. The love and respect I have for Madi will continue to endure."
Then on March 25, 2020, photos surfaced of Weber and Flanagan getting very flirty together in Chicago, Illinois.
Apparently Peter and Kelley are in Chicago together right now and I'm gonna need an explanation ASAP!!! And this is not social distancing!!! #TheBachelor pic.twitter.com/TfDcqtgGFK
— Brett S. Vergara (@BrettSVergara) March 25, 2020
In one set of photos, Weber is carrying Flanagan over his shoulder like a sack of potatoes. The two have not announced that they are a couple, but it seems evident to fans that something is going on there.
Did Peter Weber plan to ask out Kelley Flanagan during the 'The Bachelor' Live Finale?
"Peter had no intention to reunite with Madi during the finale and planned to ask Kelley out instead because they were already seeing each other," wrote one fan on Reddit. "Producers blindsided him with the Madi reunion, they also blindsided Madi with Barb's fury, and Kelley was just sitting there waiting for Peter's invitation."
The fan theories are running rampant after the reveal of the Chicago photos; however, the main comment from most fans is that Flanagan and Weber have been together since he broke up with Hannah Ann. They think that the producers wanted …
Source:: Showbiz Cheat Sheet
(Visited 5 times, 1 visits today)