'A Million Little Things': Fans Are Here for Romance Between Gary and Darcy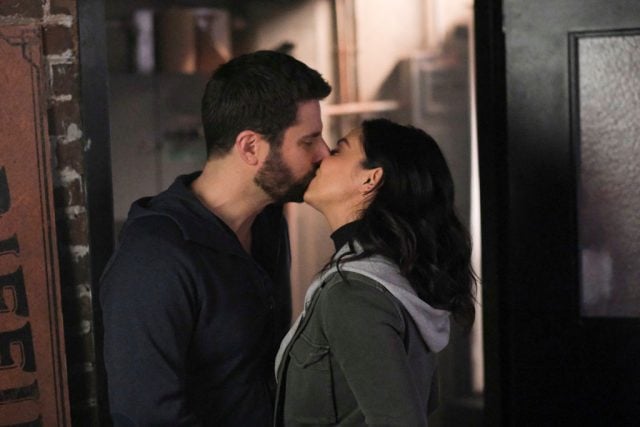 There's a new couple emerging on ABC's A Million Little Things, Gary (James Roday) and Darcy (Floriana Lima), and fans are loving it.
After nearly two seasons of Gary's main love interest being Maggie (Allison Miller), the therapist he met in a cancer support group, the sarcastic and funny guy who will do anything for his friends has a new romance brewing.
Gary and Darcy met on a laser tag playdate
When Eddie (David Giuntoli) and Katherine (Grace Park) are unable to take their son, Theo (Tristan Byon), to play laser tag with a friend from school, Gary volunteers.
When they show up, Gary flirts with an employee but soon realizes he likes Theo's friend's mom, Darcy, who is a war veteran and a single parent. Things move pretty quickly and soon, Darcy tells Katherine she's been seeing Gary.
James Roday as Gary and Floriana Lima as Darcy on 'A Million Little Things' | Bettina Strauss/ABC via Getty ImagesMaggie decides to tell Gary she still loves him, then backs out
After their break up, Maggie gets a second chance at a fellowship in England. As she's packing up her things, she learns Darcy and Gary are dating. It proved to be the push she needed to tell Gary she still loved him.
In a cab on her way to Gary's apartment to profess her love for him, she sees him kissing Darcy, and decides to abandon the idea and head back to her place. What she doesn't know is that their other friends know Gary's been having trouble getting over her too.
Regina and Delilah watched as Gary sent Maggie a bottle of wine when her online date stood her up.
When they went to a mutual's friend's party together, Gary imagines getting stuck in an elevator with Maggie and telling her his true feelings, that he's still in love with her. Instead, he kept quiet and made an effort to move on.
Fans like Darcy and Gary together
When DJ Nash, creator of A Million Little Things, tweeted fans on March 19, 2020, asking if they were on Team Darcy or Team Maggie, they were quick to share.
"I might be in the minority, but I'm really loving Gary with Darcy. They're right for each other and Gary is so good to her," one fan wrote. Others chimed in with equally positive
Source:: Showbiz Cheat Sheet
(Visited 9 times, 1 visits today)