'This Is Us': Fans Debate Which Brother Went Too Far In Their Argument — Randall or Kevin?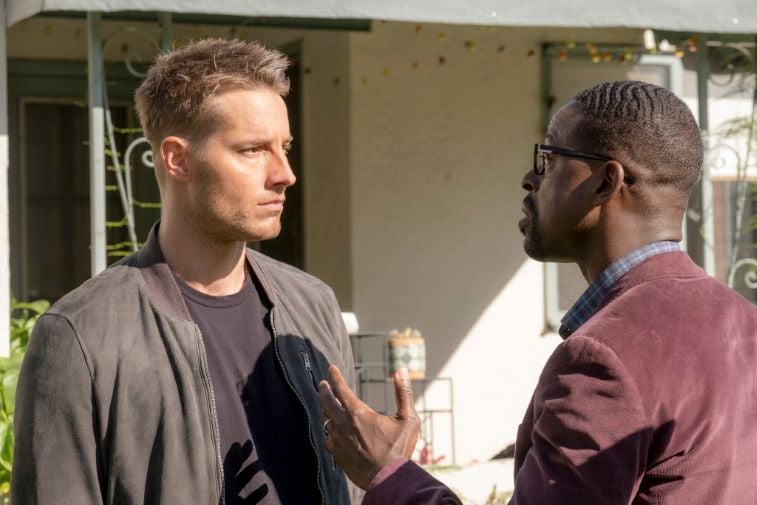 The This Is Us Season 4 finale brought all the feels. Randall (Sterling K. Brown) and Kevin (Justin Hartley) finally had that fight we knew was brewing, but it was worse than anyone ever expected. There were so many digs and low blows that fans are not sure the brothers will fully recover from it. Some people say Kevin took it too far, but others say it was Randall.
[Spoiler alert: This Is Us Season 4 Finale spoilers ahead.]
Justin Hartley and Sterling K. Brown | Ron Batzdorff/NBC/NBCU Photo Bank via Getty ImagesMany fans feel Randall went too far in the 'This Is Us' Season 4 finale
"You'll never know what it's like to devote yourself to anyone other than yourself," Randall told Kevin during the last five minutes of the episode. "And you'll pretend, but it'll just be a performance, a tired, stale performance, like all of your performances."
Randall also tells Kevin that their father, Jack (Milo Ventimiglia), died ashamed of Kevin. There were some severe fighting words after Kevin found out that Randall was the one who convinced their mother to participate in a drug trial.
View this post on Instagram
It's all led to this moment. Season finale Tuesday. #ThisIsUs
A post shared by Sterling Brown (@sterlingkbrown) on Mar 23, 2020 at 3:08pm PDT
"I feel like Randall was wayyyyyyy more heartless than Kevin was — bringing in your dead father's shame — ouuuuch," one fan wrote on Reddit.
Other fans agree that Randall is convinced he is the better son. It all came out, and many fans feel Randall took things too far.
"He's made it abundantly clear that he has never truly had an iota of real respect for Kevin, even after ALL the times Kevin has been there for him," another fan added.
Fans believe Kevin was only reacting to Randall's comments
"You know, I used to think the worst thing that happened to me was the day that Dad died," Kevin tells Randall. "It's the day they brought you home. Hand to God, Randall, the worst thing that ever happened to me was the day they brought you home."
Kevin reacted to what Randall said and came out …
Source:: Showbiz Cheat Sheet
(Visited 4 times, 1 visits today)