RIP Thanos: Taskmaster is Already the MCU Fanbase's Favorite New Villain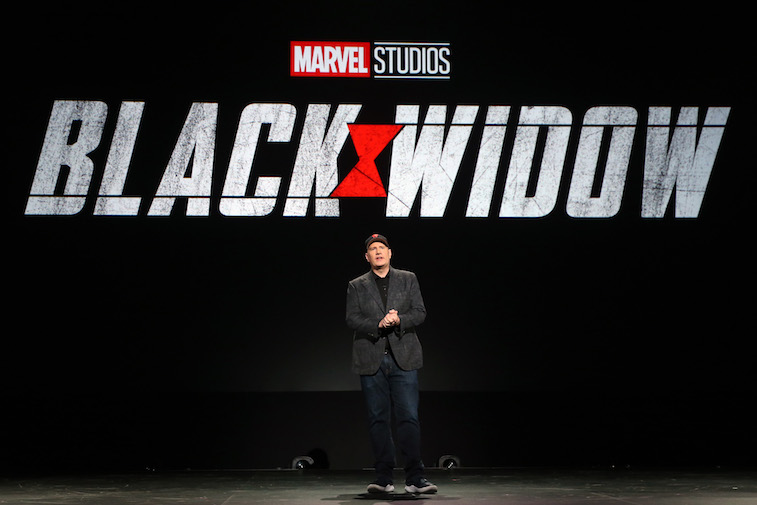 Marvel fans generally agree that Thanos is one of the best, if not the best villain the Marvel Cinematic Universe has ever produced. How do you top being able to wipe away half the life in the universe with a single snap?
Maybe you don't, but some Marvel fans think the villain in the next MCU movie could come very close. He is the Taskmaster, who will be the big bad in Black Widow. He is primarily known for his ability to mimic any fighting style, making him very, very hard to defeat.
Kevin Feige | Jesse Grant/Getty Images for DisneyWho is the Taskmaster?
At first glance, the Taskmaster looks like a cross between Skeletor of He-Man and the Masters of the Universe and Doctor Doom, but he's a lot more dangerous than that sounds. He's a relatively recent creation, having first appeared in 1980 in an issue of Avengers. He tangled the Ant-Man gang with Scott Lang, Hank Pym and Janet Van Dyne, according to the official Marvel site.
Hailing from Brooklyn, the Taskmaster, whose given name is Anthony Masters, works as a combat instructor. His very unusual abilities first manifested themselves in childhood when he watched cowboy shows on TV and found that he could perform rope tricks instantly. It was like a low-tech version of that moment in The Matrix when Keanu Reeves gets a shot of training in his head, and just like that he says, "I know Kung Fu."
Only the Taskmaster comes by his abilities more biologically. Psychiatrists said he had a form of photographic memory that was more like muscle memory. He ended up fighting for the villains because in his mind, contrary to what superheroes usually tell you, crime pays and crime pays plenty.
Why do fans like The Taskmaster?
Who is Taskmaster? Unmask the masked menace of mimicry with our definitive comics reading guide!
: https://t.co/MGYaQM675V #MarvelUnlimited pic.twitter.com/YBYmLE5jdv
— Marvel Entertainment (@Marvel) December 10, 2019
In a Reddit post from this month, the topic-starter said, "He's already a badass in the comics. He looks absolutely amazing in Black Widow. I didn't like his mask at first but it's kinda growing on me. I really hope Taskmaster isn't a one and done villain. I can see him being in many other MCU movies in the future. What are y'all's thoughts?"
Thoughts included the …
Source:: Showbiz Cheat Sheet
(Visited 2 times, 1 visits today)