Exclusive Interview With 'The Sinner' Creator Derek Simonds: Season 3 Dives Further Into Trauma, Upping the Ante via Isolation and a Spiritual Crisis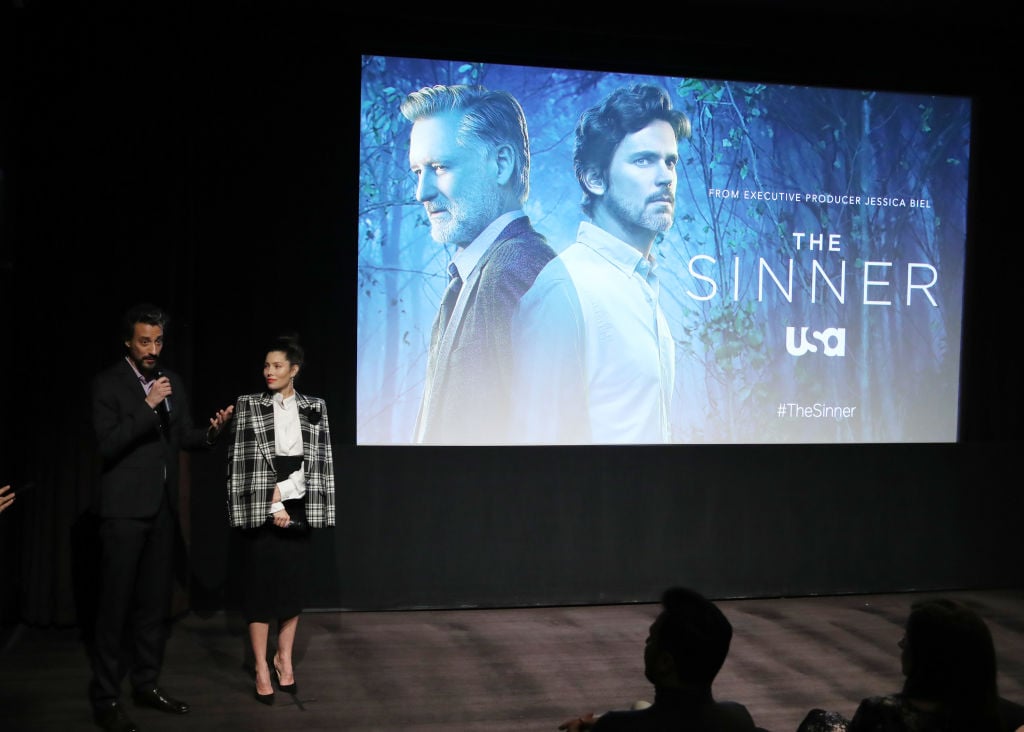 'The Sinner' Derek Simonds and Jessica Biel | Randy Shropshire/USA Network/NBCU Photo Bank via Getty Images
Each season, The Sinner takes audiences on a character-driven whydunit, exploring the depths of human nature as trauma acts as a guiding force — revealing what we are capable of when pushed to the mental brink.
Showrunner Derek Simonds explained to Showbiz Cheat Sheet the appeal tied to focusing on motive, as opposed to a "more conventional, catching the killer mystery story:' it creates an opportunity to write a "character study in the guise of a mystery."
'The Sinner' Derek Simonds and Jessica Biel | Randy Shropshire/USA Network/NBCU Photo Bank via Getty Images
In season 3, the character study focuses on Jamie Burns (Matt Bomer), whose intimate yet twisted relationship with Nick Haas (Chris Messina) turns the small-town teacher into a homicidal yet vulnerable lost soul. Burns' desire for human connection amidst a spiritual crisis materializes as a murderous and tragic dismissal of morality.
Derek Simonds discussed season 3 with Showbiz, defining Jamie Burns' story as a tragedy, for he is "facing these harder truths, but he doesn't have the tools to really grapple with them."
Derek Simonds on trauma and isolation amid a contemporary spiritual crisis
In The Sinner third season, Jamie Burns is begging for a connection, and he reaches out to Detective Ambrose. Burns hopes Ambrose will pull him from the edge, relate to him, and prove that he's not all alone in this debilitating existential crisis — questioning the reason for life if not merely to confront what gives it meaning: death. Simonds commented on Jamie and Ambrose's dynamic, stating:
In season three, he's [Ambrose] is forced to confront a kind of mirror to himself. Jamie is his double and he's basically saying "you know, we're the same, and you need to recognize this otherwise you're leaving me out here all by myself."
Ambrose approaches and retracts — plays confidante and cop — for he sees himself in Jamie, which is both an intriguing attraction and a terrifying realization. Yet, Ambrose is there for Jamie, as much as he can be, teeter-tottering the line between a detective on a mission and a fellow traumatized man in crisis. Simonds said:
Trauma can only be healed through an authentic, intimate connection with someone else. And, that's the sort of superpower that Ambrose has, and offers to the cases that he works on, is this very deep empathy and ability to listen deeply.
The season follows men in a society …
Source:: Showbiz Cheat Sheet
(Visited 4 times, 1 visits today)