When Led Zeppelin Brought Keith Moon Aboard for a Wild Performance of 'Rock and Roll'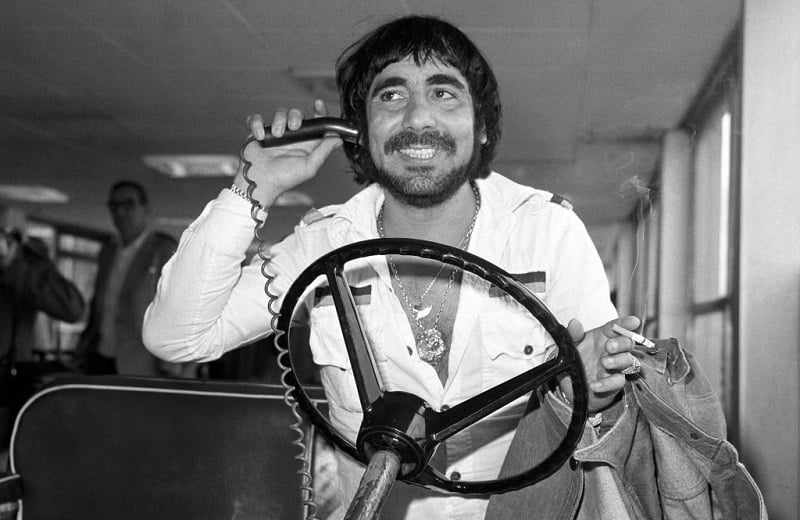 If you invite Keith Moon on stage, you have to expect weird things to happen. Moon's bandmates in The Who, who witnessed the drummer set off bombs after performances (once, he even passed out at his drumkit), knew that all too well.
But that didn't stop rock's biggest bands from interacting with the notorious practical joker/world-class drummer. Take The Beatles. After he offered to replace Ringo in 1966, no one worried about having Moon sit with the band for its "All You Need Is Love" worldwide broadcast in '67. (Moon behaved.)
The following decade, Led Zeppelin had taken over as the rulers of rock. And Moon decided he had to join in on the fun with Zep and his friend John Bonham — another master drummer with a penchant for destructive practical jokes. In 1977, Moon and Zep had their moment on stage.
Moon joined Zep on stage in LA for a wild encore
Keith Moon, drummer for The Who, takes the wheel of an airport luggage transporter in the 1970s. Moon was joining the group for a European tour. | PA Images via Getty Images
By the summer of '77, Zeppelin and Moon both had their share of battle scars from the rock 'n' roll life. But they could still make magic on stage and in the studio, and at another marathon Zep performance at the L.A. forum, they did just that.
Fans can watch some of it happen in a video of the event released by the band. After an impassioned rendition of "Stairway to Heaven," you find Robert Plant thanking the crowd as the band walks off the stage (at 5:20). But the encore hadn't come yet.
As Plant sits behind the drumkit, you see Moon grab the mic and begin speaking incoherently at the front of the stage. Plant, looking like he's having a joke played on him, returns soon to take it back. "Keith Moon!" he announces, as the drummer joins Bonham at the back of the stage.
From there, the band tears into "Whole Lotta Love," with Moon flailing away next to Bonzo. While we don't get much of that song on the video, we do see Moon and Zep in full-throttle action on "Rock and Roll." It's truly something to behold.
Bonzo and Moon have their moment at the close of 'Rock and Roll'
John Paul Jones, Jimmy Page and Robert Plant of …
Source:: Showbiz Cheat Sheet
(Visited 4 times, 1 visits today)