Serena Williams still wears her bad-mojo 2018 Nike/Abloh ballerina tutus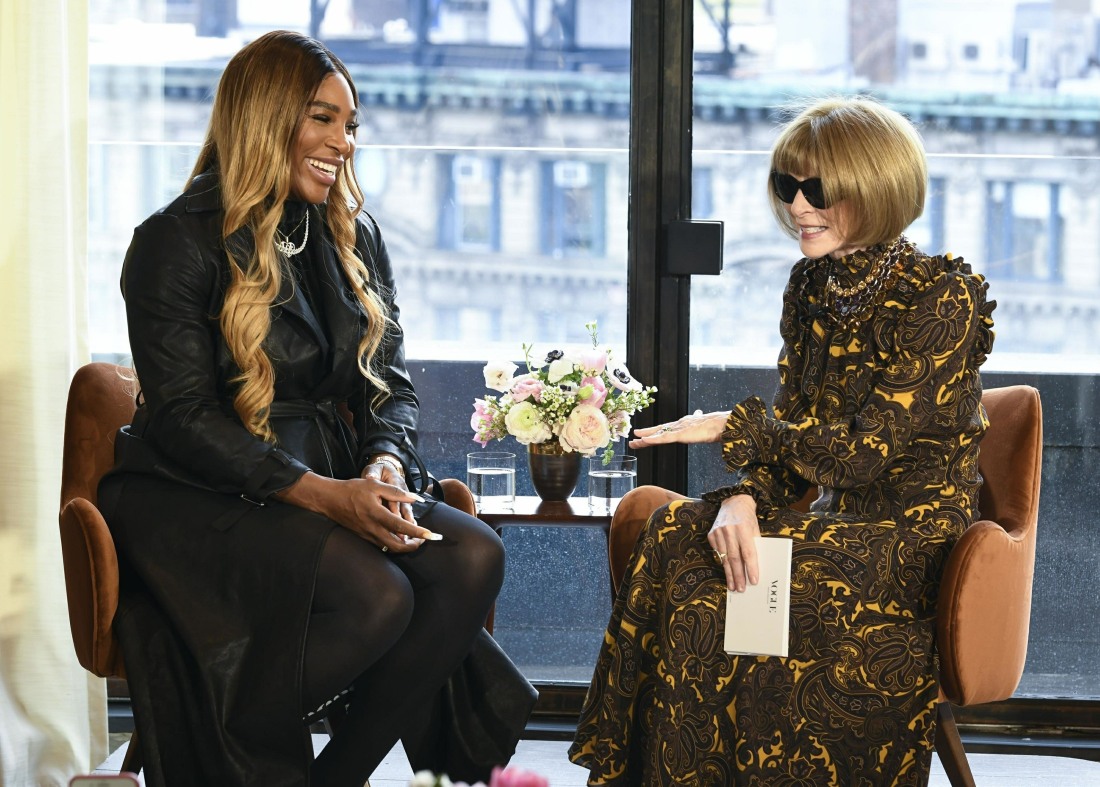 Serena Williams has been in New York this week for New York Fashion Week. She's presented her latest S by Serena collection, including a runway show featuring her BFF Caroline Wozniacki. Serena also did a Q&A session with Anna Wintour, and I'm including some photos of that too. Serena's outfit for that session… it was not that cute. Whew. More on that in a second.
Serena lost in the third round of the Australian Open in an absolutely brutal three-set battle against Wang Qiang. In the past few years especially, there's a feeling that Serena's head isn't really on the court a lot of the time. Which is fine, in general – she's still the GOAT, she's a mom now, and she has a million side projects, like her fashion line. Billie Jean King has suggested in the past that all of those side projects are perhaps the reason why Serena hasn't gotten to #24. Recently, Serena's coach Patrick Mouratoglou said that the reality has come home for him too, that changes need to be made if Serena is serious about reaching her tennis goals. Some peeps wonder – and I'm one of them – if Patrick is the problem. Or part of a larger problem, let's say that. Other culprits: Serena apparently isn't superstitious at all, and her most favorite on-court kit was the one associated with her biggest f–king controversy, the 2018 US Open ballerina tutus.
Serena Williams knows how to make a fashion statement both on and off the court. One of the 38-year-old tennis player's most iconic looks came when she walked onto the court wearing a black one-shoulder tutu dress — followed by the same Nike x Off-White design in lavender a few days later — at the 2018 U.S. Open.
Fans and social media users went wild for Williams' pretty tulle and spandex outfits, that designer Virgil Abloh described as a "ballerina-esque silhouette to symbolize her grace." And apparently, the 23-time Grand Slam winner (still!) loves them just as much as we do.
Before presenting her S by Serena Spring 2020 collection during New York Fashion Week on Wednesday, the-athlete-turned-designer-turned-entrepreneur held a panel discussion with Vogue Editor-in-Chief Anna Wintour, where she shared that the Nike x Off-White tutus were two of her favorite tennis court looks of all time.
"So I thought about that …
Source:: Cele|bitchy – News
(Visited 2 times, 1 visits today)