Jennifer Aniston & Brad Pitt think it's 'hysterical' that fans want their reunion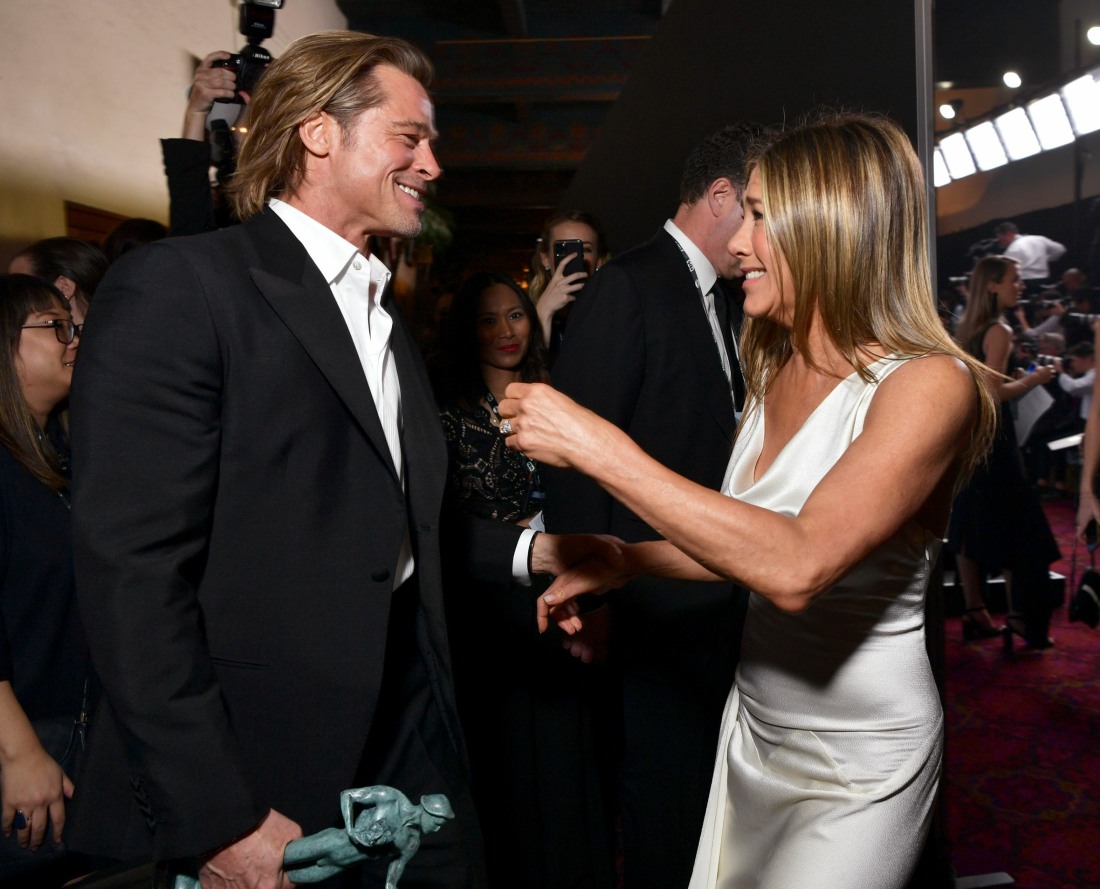 Here's a dead horse, let's beat it together. Us Weekly has a story in their current issue about how Brad Pitt and Jennifer Aniston both think it's downright hysterical that they keep baiting their Bradifer 4 Eva stans into a frenzy and then the fans actually want to see them get back together. Combine this with Aniston's Interview Magazine cover profile, it really feels like everything old is new again. Hello 2005 my old friend:
Still ship? Jennifer Aniston and Brad Pitt think it's funny that fans are still rooting for them to reunite, a source tells Us Weekly exclusively.
"There's nothing romantic going on between Brad and Jen and they actually think it's hysterical that fans are so obsessed with them getting back together," the source explains. Pitt, 56, and Aniston, 51, were married from 2000 to 2005. The former couple nearly broke the internet last month when they were spotted backstage at the 2020 SAG Awards. In addition to the pair congratulating each other for their respective wins, Pitt was spotted watching Aniston's acceptance speech for her role in The Morning Show.
"He was very into it. He wanted to hear what she had to say," an insider told Us at the time. "He looked proud. When he walked away after her speech ended, it appeared he wiped his eye."
Despite the hoopla, the first insider tells Us that Aniston isn't worried about her romantic life at the moment.
"Jen is having the time of her life right now," the source says. "She's satisfied with her work and personal life."
[From Us Weekly]
Next the source will say that Jennifer is totally fine, and incredibly happy, but she still dreams of the sound of children playing by the ocean, and during those moments, she stares longingly at an old photo of Brad. I mean… it is LITERALLY 2020!!! Can we just all, collectively, as a society, move on? The thing is, these stories only get written because some people *are* buying it. They're buying the idea that Brad and Jennifer are still such close friends and they share a tender laugh about all of the reunion speculation and soon enough, their eyes will meet and…
Embed from Getty Images
Embed from Getty Images
Photos courtesy of WENN, Getty, Backgrid and Avalon Red.
Source:: Cele|bitchy – News
(Visited 4 times, 1 visits today)