BTS: Jungkook's Blue Hair Highlights Are Making Us Contemplate If We're Ready for the Next Comeback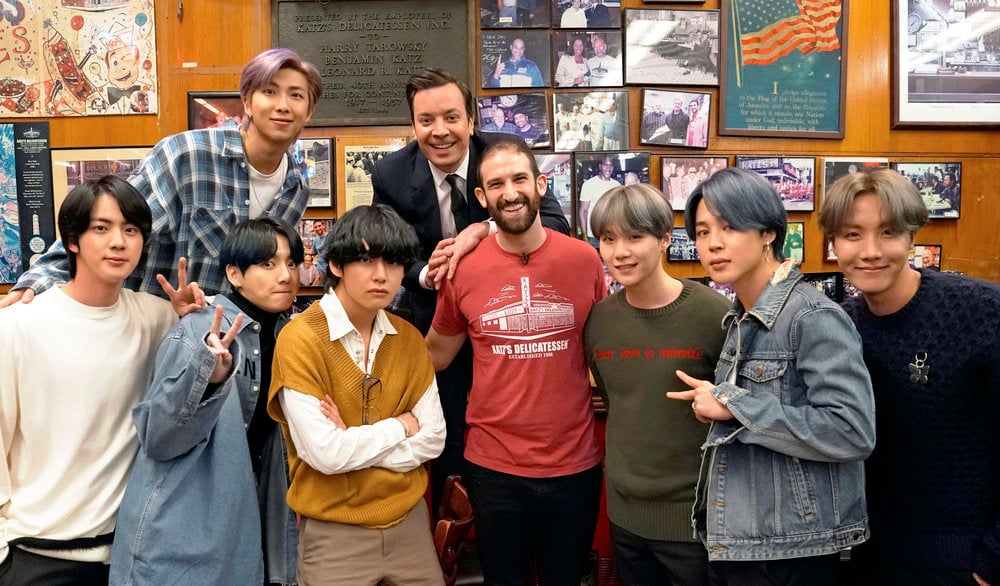 We're about a week out from the BTS comeback for Map of the Soul: 7, and the seven members — RM, Jin, Suga, J-Hope, Jimin, V, and Jungkook — have supplied ARMY with enough content to get through Feb. 21 in one piece. From the "Black Swan" performance to the insightful media circuit rounds, everyone knows the next era will be nothing short of phenomenal — including the band. And now, a few of the members are representing the album in their fashion choices. When new concept photos were released, Jimin and RM showcased their blue and purple hair. Then a few days later, Jungkook debuted blue hair highlights in a sneak peek at BTS' Tonight Show special appearance.
Jungkook has blue hair highlights in a 'Tonight Show Starring Jimmy Fallon' teaser photo
BTS, Jimmy Fallon, and Katz Deli employee | Andrew Lipovsky/NBC
On Feb. 13, NBC announced BTS' appearance on The Tonight Show Starring Jimmy Fallon. In a press release, the network revealed details about the episode, which will include an extended interview, special performance, and tour of New York City. According to the release, Fallon said:
We wanted to do something special for BTS and, at the same time, celebrate New York City. BTS really knocked it out of the park. You're not going to believe how big and fun their performance is. They took over Grand Central Terminal. It's BTS on NBC from NYC at GCT…wait, this is getting weird, isn't it? Just watch the show on Monday, Feb. 24.
NBC also unveiled a teaser photo from the Tonight Show episode, featuring the septet, Fallon, and an employee from the iconic Katz's Delicatessen. And ARMY was quick to notice Jimin and RM's colored hair, slightly faded from when the concept photos were taken. The picture also stopped a few BTS fans in their tracks once they saw Jungkook's blue hair highlights.
BTS fans react to Jungkook's blue hair highlights
Tweet us your questions for @BTS_twt using #FallonAsksBTS! pic.twitter.com/68f0eRzJ7P
— Fallon Tonight (@FallonTonight) February 7, 2020
For the past few months, Jungkook has consistently surprised BTS fans with his stunning new hair looks. Following his long hair phase, the "Euphoria" singer traded in for the signature "coconut" cut, noting the lengthy locks were too "damaged and hard to control."
As time went on, Jungkook's hair grew out a bit. …
Source:: Showbiz Cheat Sheet
(Visited 5 times, 1 visits today)