A burger press, anti-procrastination timer, eyeglass nightstand holder and more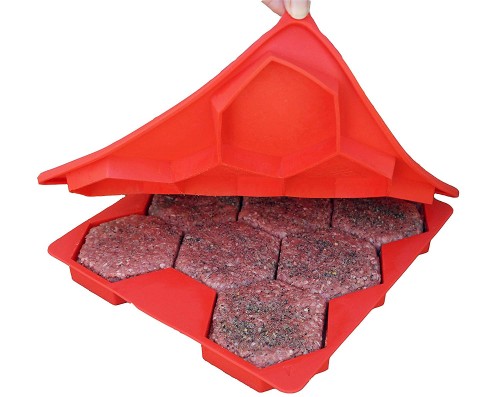 From CB: It's more affordable to buy ground beef or turkey and shape your own burgers, but the ones I make are never quite uniform. This burger press lets you shape a pound of meat into perfect hexagonal quarter pounders. It comes with a cover so you can stick the whole thing in a freezer or in a cooler. It makes it easy to bring burgers with you to cookouts, grill-your-own picnics and more. The patties easily pop out of each section so it works well if you only need one to two at a time. It also works great for individual servings of soups and meals. Plus it goes right in the dishwasher afterwards. This has 4.4 stars, 610 ratings and a B on Fakespot.
A cube timer with increments so you'll do that thing you're procrastinating
From CB: I've been following Gretchen Rubin's one minute rule, where you do an annoying or menial task if it takes under a minute. This has made my house much cleaner because I wipe up little messes, wash dishes and take care of the little things right away. May as well do it now, right? This is a cube timer with different sides featuring specific numbers. There are versions with 1, 2, 3 and 5 minutes, 1, 5, 10, and 15 minutes, 5, 10, 20 and 45 minutes and more. You just flip it over, turn it on and a digital countdown begins. It has a little beep like an old school alarm clock. The time cube is great as a visual reminder that you can do that thing and that it doesn't have to take forever. It can be used for fitness activities, homework, reminders for kids and so many other tasks. This has 1,500 ratings, 4.1 stars and an A on Fakespot.
A plush standing eyeglass holder so you won't lose your glasses at night
From CB: I can't tell you how many times I've lost my glasses in bed, under the bed, and in my bathroom. I got a tray for them but I still end up setting them on the nightstand. This is a magnetic plus standing eyeglass holder in multiple colors, prints and finishes so you'll always know where your glasses are. People love this thing, it has 4.8 stars, 485 ratings and an A on Fakespot! Plus …
Source:: Cele|bitchy – News
(Visited 2 times, 1 visits today)