Why Led Zeppelin Didn't Include 'Hey, Hey, What Can I Do' on the 3rd Zep Album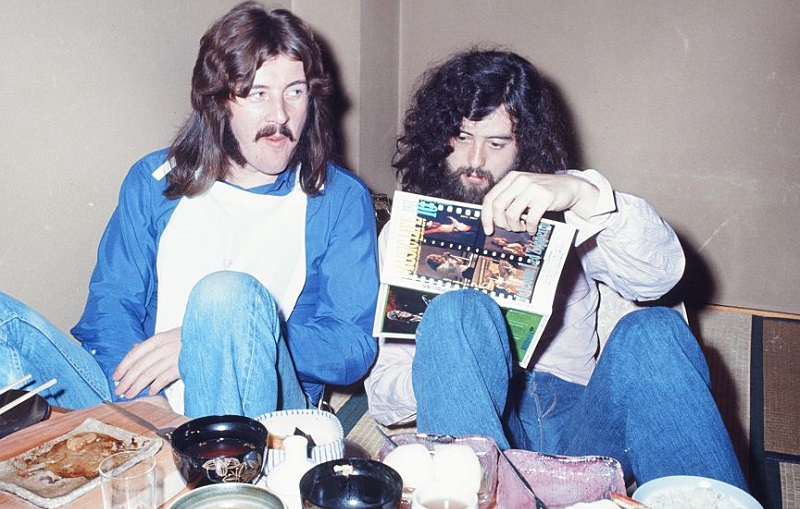 Jimmy Page and John Bonham relax at a hotel, Hiroshima, September 1971. | Koh Hasebe/Shinko Music/Getty Images
When Zep's boxed sets (including The Complete Studio Recordings) went out in the early '90s, "Hey, Hey, What Can I Do" returned as something of a lost gem in the Zep catalog. Fans who'd been starved for extra material had a reminder of what they'd missed. ("Traveling Riverside Blues" was another one.)
That got Zep-heads wondering how the track, recorded during the
If you were a Beatles fan, a Fab Four single was a must-have. In the Rubber Soul era, you'd want the "We Can Work It Out" 7-inch with "Day Tripper" on the flip-side. The following year (from the Revolver sessions), you'd definitely need the "Paperback Writer" single with "Rain" on the B-side.
When Led Zeppelin crashed onto the scene in 1969, the band's singles were optional. "Good Times Bad Times," released in March of that year, would have only given casual fans a chance to own some of the band's music. Otherwise, anyone with Zep's debut album already had it.
The same went for Led Zeppelin II, the group's blistering follow-up. Fans who'd bought the album had no use for the "Whole Lotta Love" single Atlantic released in the U.S. (Zep never released a single in the UK.)
But that changed (slightly) with the band's third record. Though Side A of the "Immigrant Song" single had nothing extra to offer Zep fans, they got a treat on the B-side with "Hey, Hey, What Can I Do." It was the only song Zep ever released that didn't go out on an album.
Zep only planned to use it as the B-side to 'Immigrant Song'
Jimmy Page and John Bonham relax at a hotel, Hiroshima, September 1971. | Koh Hasebe/Shinko Music/Getty Images
When Zep's boxed sets (including The Complete Studio Recordings) went out in the early '90s, "Hey, Hey, What Can I Do" returned as something of a lost gem in the Zep catalog. Fans who'd been starved for extra material had a reminder of what they'd missed. ("Traveling Riverside Blues" was another one.)
That got Zep-heads wondering how the track, recorded during the Led Zeppelin III sessions, didn't make it onto that album. After all, compared to "Friends" or, say, "Hats Off to (Roy) Harper," many Zep fans would've cast a vote for "Hey, Hey, What Can I Do."
But that wasn't in the cards for the "Immigrant Song" B-side. As the authors of the essential Led Zeppelin: All the Songs put it, the "sole purpose" of "Hey, Hey" was to spice up the flip-side of the 1971 single. Otherwise, the light country-rock track was a bit of an oddity in the band's catalog.
"Hey, Hey, What Can I Do" wasn't an acoustic showcase like "Black Mountain Side" or a folk ballad like "Going to California." It was probably as close to …
Source:: Showbiz Cheat Sheet
(Visited 4 times, 1 visits today)