The Original 'Star Wars: Episode IX' Script Leaked, and It Was More Faithful To Past Movies and Series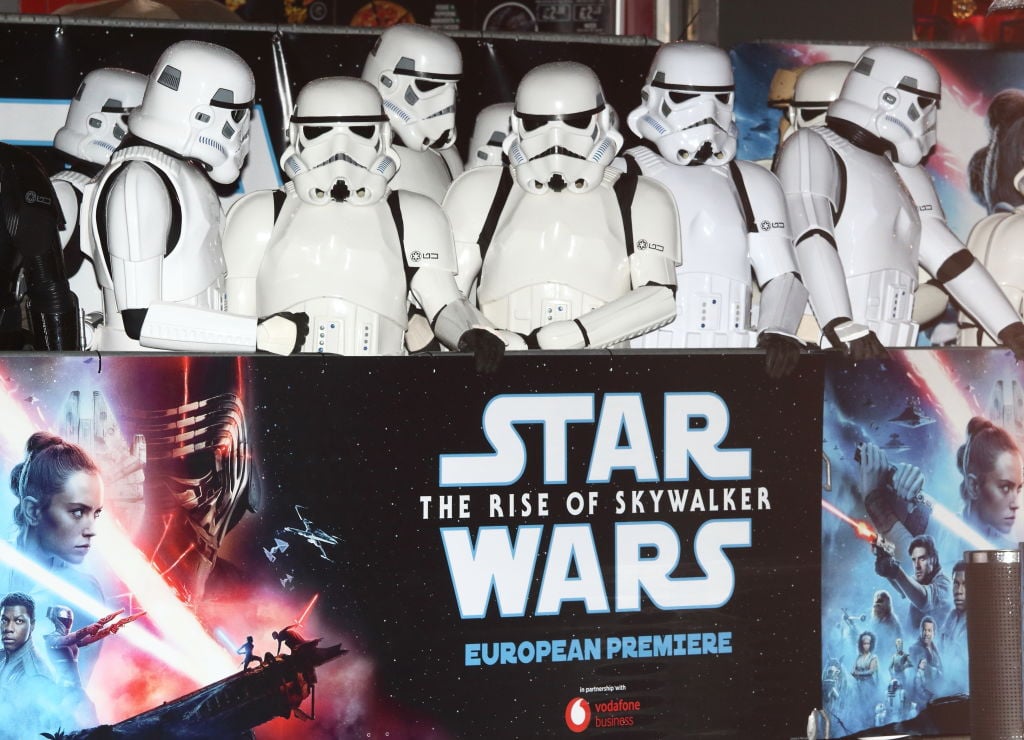 Before J.J. Abrams was brought on to direct and write The Rise of Skywalker, with Chris Terrio as a co-writer, the movie had gone through a few creatives. One of the most notable was Colin Trevorrow, who's known for the Jurassic World movies. He also had a writing credit on the film still, although he didn't write the script of the movie currently in theaters. But a recent leak of his script has surfaced on the interwebs and it's much different than The Rise of Skywalker and is more faithful to a lot of past Star Wars lore and media. Spoilers ahead for The Rise of Skywalker.
People dressed as Stormtroopers at the 'Star Wars: The Rise of Skywalker' European Premiere | Keith Mayhew / Echoes Wire / Barcroft Media via Getty ImagesThe title was 'Duel of the Fates' and was written as a direct sequel to 'The Last Jedi'
The site The Playlist reported that a post from the infamous r/StarWarsLeaks subreddit shared new info regarding Trevorrow's script. It linked out filmmaker and YouTuber Robert Meyer Burnett's reading of the alleged script. The Playlist corroborates a lot of the info, and many believe it's real. The title was Duel of the Fates, after the musical theme heard for the first time in The Phantom Menace, but runs through the whole prequels. It's a great title considering the whole script pays subtle tribute to the prequels and The Clone Wars.
For one, the general theme of the movie is the same. As The Playlist points out, the First Order is still reigning terror over the galaxy, Kylo Ren is the new Supreme Leader, and the Resistance is riding on the high of Luke Skywalker's stand on Crait. The opening crawl mentions that Kylo Ren is choking communication among planets. Palpatine is mentioned but not brought in, as Trevorrow said in the past. It's also obvious in the accounts that this film plays off everything Rian Johnson did in The Last Jedi.
Finn and Rose are more front and center, with fuller stories
In this draft of Episode IX, Finn, Rose, and BB-8 are back at it again on a mission at the very beginning. They later move on to Coruscant, a once vibrant planet that fans haven't seen since the prequels where it acted as the capital of the …
Source:: Showbiz Cheat Sheet
(Visited 4 times, 1 visits today)