The 7 Most Hysterical 'Baby Yoda Problems' Memes Trending on Twitter Right Now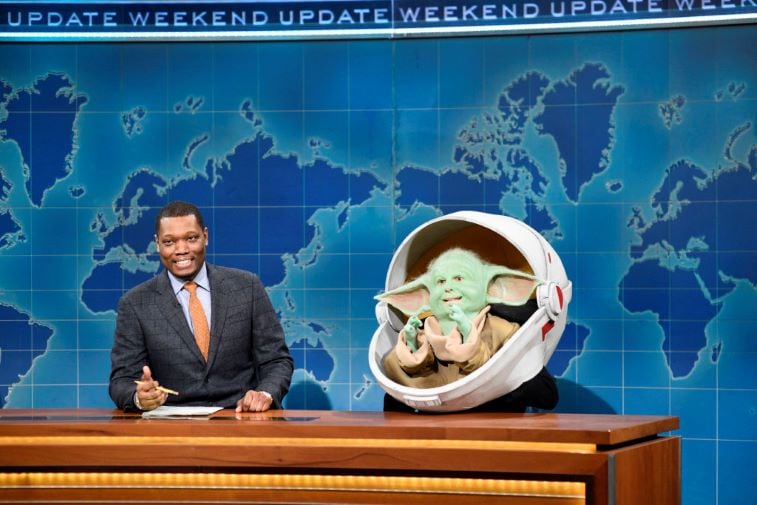 In the fall of 2019, a new baby took social media by storm. It wasn't Prince Archie or Psalm West. The little guy wasn't even human, and Baby Yoda isn't his real name. We don't even know what his given name is, but we love him all the same.
The little green creature from Disney +'s new Star Wars series, The Mandalorian, was the most Googled baby of 2019, but he didn't stop there. Now, there's a new hashtag trending on Twitter featuring the child; #BabyYodaProblems.
Anchor Michael Che and Kyle Mooney as Baby Yoda | Will Heath/NBC/NBCU Photo Bank via Getty ImagesWhere did #BabyYodaProblems come from?
We know that Baby Yoda is Mando's sidekick in The Mandalorian; however, the series completed their first season on Dec. 27, 2019. Why is the tiny green guy still trending on Twitter, over two weeks later?
"The fact that #BabyYodaProblems is trending is the best thing in my life right now," wrote one Twitter user.
We have no real explanation for the trend, except for the feeling that he is adorable, and the memes are hysterical. Let's take a look at the top seven favorites right now.
The other side of the room is 3 hours away
The poor little guy is so short that it takes that much longer to walk everywhere. Fans are here for it. Viewers on the shorter side can surely relate to this one.
"I wonder how many steps it would take him," commented one fan.
The other side of the room is 3 hours away
#BabyYodaProblems pic.twitter.com/NLd8PaJZ7Y
— Robyn (@rawbeancoal) January 14, 2020When all you want to do is drive and go 'pew, pew, pew'
"But Dad says, 'no," wrote the Twitter user.
This clip of Baby Yoda trying to drive the speeder is used in an enormous number of #BabyYodaProblems with various other hysterical captions.
"When you're not getting enough attention, so you decide to crash the ship," from another fan, is also a noteworthy caption to this gif.
When all you want to do is drive and go Pew Pew Pew but dad no… #BabyYodaProblems pic.twitter.com/qvWGWgkOGx
— Pharris Garcia (@PharrisStorm) January 14, 2020Pureed isn't the same as fresh
"This is brilliant," added one fan in the …
Source:: Showbiz Cheat Sheet
(Visited 3 times, 1 visits today)