'90 Day Fiancé': What Advice Did Sarah Jessen Give Juliana Custodio About Her Ex-Husband?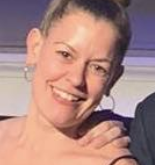 Since the beginning of TLC's 90 Day Fiancé Season 7, fans have been shocked by the unconventional relationship between Juliana Custodio and her husband Michael Jessen's ex-wife, Sarah Jessen.
The nearly 20-year age difference between 23-year-old Brazilian model Juliana and 42-year-old Michael, a Connecticut-based wine entrepreneur and divorced dad of two kids, immediately raised some eyebrows. But it quickly became clear that Juliana and Michael truly cared for one another and knew each other well.
It also became clear that Juliana and Sarah didn't have the jealousy and animosity one might expect from an ex-wife and second wife. In fact, on the Jan. 12 90 Day Fiancé episode, "Choose Me," the two women headed out together for Juliana's wedding dress fitting…and Sarah even offered some advice to Juliana about handling her ex-husband.
Sarah Jessen | Sarah Jessen via InstagramSarah advised Juliana to keep her money separate from Michael's
On "Choose Me," Juliana excitedly shared that she was going with Sarah to get her wedding dress altered.
And after opening up to Sarah about her troubled history, including an arranged marriage to a controlling older man back in Brazil and being trafficked as a young model, Juliana even said she hoped to become as close as possible with her fiance's ex-wife. "I want to be friends. Her best friend," the 90 Day Fiancé star said.
On the way to the fitting, Sarah asked Juliana, "Are you nervous about the ceremony or actually getting married?"
"Both," Juliana admitted.
That's when Sarah gave Michael's fiancee a hint about making her marriage work. "I think that Michael has a really good heart," Sarah began. "But you will work, and when you do, don't just hand your money to him. I made that mistake."
Michael's ex-wife explained that she had simply given her ex her paycheck to do with as he saw fit, and that it created an "imbalance of power" in their marriage from the beginning. Instead, she suggested Juliana play an active role in handling the finances.
View this post on Instagram
Thank you everyone for the birthday wishes. This is how I celebrated: the smiles on everyone's faces say it all! I couldn't ask for a better family! #90dayfiance oh and I wore my …
Source:: Showbiz Cheat Sheet
(Visited 4 times, 1 visits today)