FKA Twigs Deconstructs the Private Show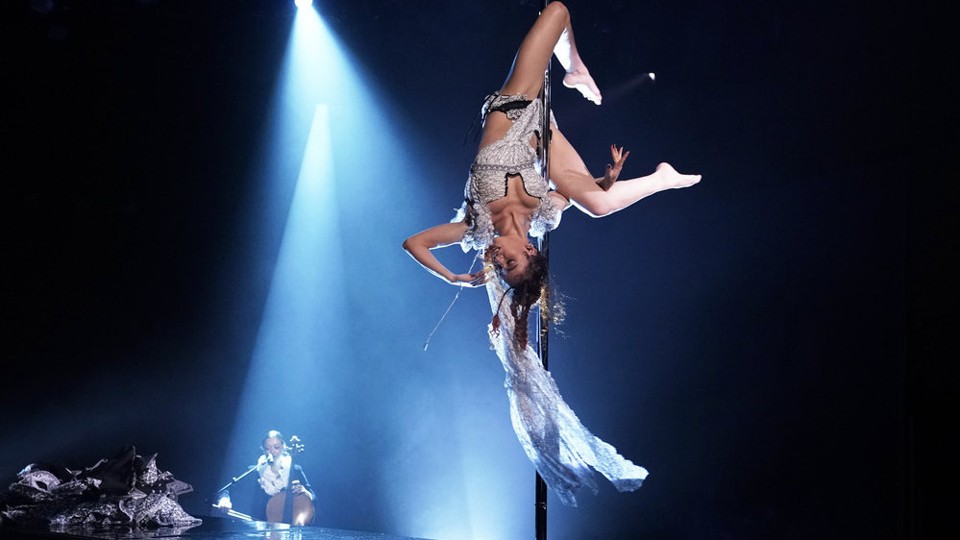 On The Tonight Show last week, the singer FKA Twigs made use of a new kind of stage. She began singing her ballad "Cellophane" while sitting on top of a piano. Her pose was a crumpled one, with the glorious ruffles of her gown—medieval in shape, but more Lil Nas X–like with its bandana-print pattern—splayed about her. Midway through the song, Twigs got up and walked down a catwalk-like extension down past the piano's edge. A stripper's pole waited at the end, and she jumped up on it to execute an elegant in-air ballet.
A classical instrument joined seamlessly with a tool of the nightclub, of sexual gratification, and of feminine performance: This is a very FKA Twigs idea. The 31-year-old Tahliah Barnett sings in highly mannered trills reminiscent of opera and the Renaissance. Her music warps and scars the syncopated grooves, rap flows, and electronic jolts of modern pop. Really, what she does above all else—in sound, in lyrics, in wildly surreal music videos—is quiver. The tension between intimacy and spectacle explains why. Twigs always depicts herself performing for a lover, whom she cajoles for attention and respect via tenderly sung come-ons. She also constantly frets about a wider audience prying in, which might explain her music's gnarled, jagged textures. Her coos on "Cellophane" capture the dynamic: "They want to see us / Want to see us apart."
This anxiety of being watched makes sense, given her past as a model and backup dancer, her current fame, and the simple fact of her race and gender. When she began dating the actor Robert Pattinson in 2014, she was subjected to racist comments from his fans. When they broke up in 2017, the gossip press scrutinized and tittered as it always does. The need to project public strength while also nourishing private vulnerability feeds the beautiful conflict of Magdalene, her first release in four years. In one recent video, for "Home With You," she moves from hazy and chic clubbing scenes to, eventually, a lush forest. Dressed in white, sporting an eyepatch, she fishes a little girl from a well. But, it's revealed, an eyeball peers from Twigs's belly button. Does it represent the inescapable gaze? Or her own fiercely protected point of view?
The acclaimed EPs and full-length album that she released from 2012 until 2015 were often tagged as alt-R&B, a label that she argued was more related to …
Source:: The Atlantic – Culture
(Visited 6 times, 1 visits today)