Aziz Ansari and the Physics of Moving Forward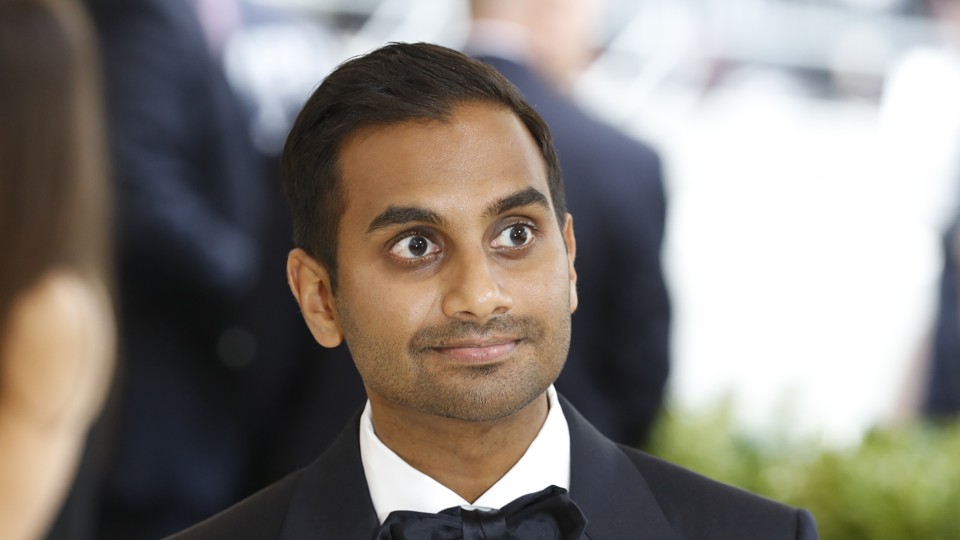 The allegation of sexual misconduct against Aziz Ansari, published in early 2018 on the now-defunct website Babe, doubled as a #MeToo Rorschach test. Some saw the woman in the story, "Grace," as a victim of Ansari's alleged sexual aggressions; some saw Ansari, simply a guy doing guyish things, as a victim of shoddy journalism. And many others saw, in that sad story of the famous man and the pseudonymous woman, themselves: While other #MeToo stories implicated men of obvious monstrosity, the menace of Grace's was its revealing banality. The allegation transformed into an allegory: about consent and its opposite, about sexual scripts that play out without dialogues, about disordered conceptions of empathy.
Ansari, after issuing a statement in response to Grace's claim, largely avoided discussing the matter in public—a fact that helped the story and the discussions surrounding it to trail off, punctuated with unsatisfying ellipses. And then, last year, Ansari launched a new tour (elliptical title: "The Road to Nowhere"); the set begins, each time, with a rehearsed discussion of his feelings about the Babe story. A version of that show, performed at the Brooklyn Academy of Music in mid-May, has now been converted, under the direction of Spike Jonze, into a Netflix special, Right Now—which means that Ansari is finally discussing the allegations, not merely in in-person comedy shows, but on a global stage.
"I felt so many things in the last year or so," he says in the show. "There's times I felt scared. There's times I felt humiliated. There's times I felt embarrassed." He steadily lowers his voice to a near-whisper. "And ultimately, I just felt terrible that this person felt this way. And after a year or so, I just hope it was a step forward. And it moved things forward for me; it made me think about a lot. I hope I've become a better person."
He also hopes, he says—acknowledging the allegorical dimensions of the story—that other people have become better through their exposure to it. "You know what, man? That whole thing made me think about every date I've ever been on," Ansari says a friend told him. "And I thought, Wow, well, that's pretty incredible. This made not just me, but other people, be more thoughtful, and that's a good thing.'"
Here Ansari pauses. "And I know this isn't the most hilarious way to begin a comedy show!" he …
Source:: The Atlantic – Culture
(Visited 5 times, 1 visits today)