The Agony and the Ecstasy of Fleabag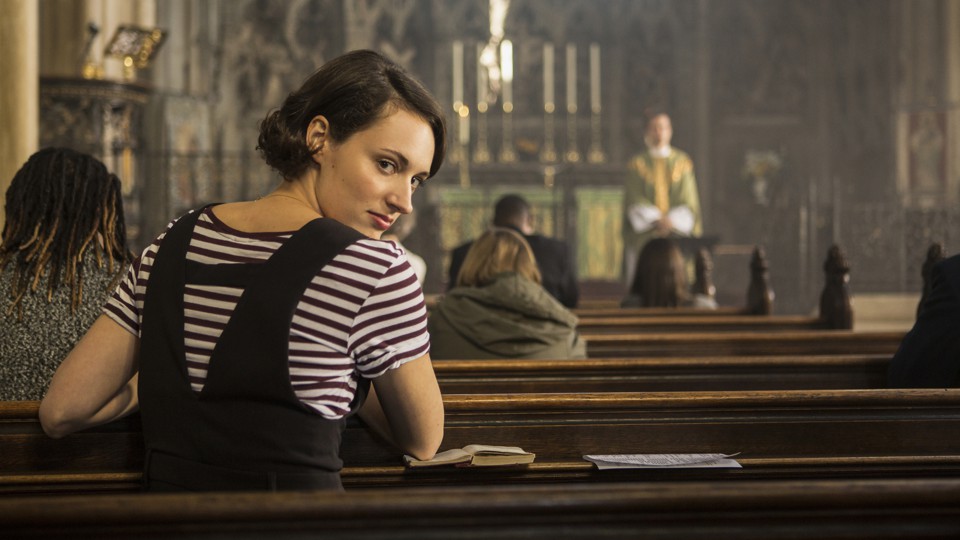 In the opening scene of Fleabag's second season, the protagonist (Phoebe Waller-Bridge), elegant in a backless black jumpsuit, is washing her hands with delicate care in a chic, Art Deco restaurant bathroom. Jazzy muzak plays. So far, so seemly. But then the camera cuts to Fleabag's face in the mirror which is covered in blood, the shot a Kubrick-esque contrast of gore and geometric wallpaper. Unperturbed, she blots her nose with a napkin and hands another to a grateful woman who's sprawled next to her on the floor.
"This," Fleabag tells the camera, "is a love story."
And there, in a single scene, is the essence of Fleabag, an almost annoyingly perfect show about the inseparable agony and ecstasy of being alive. Love, in Waller-Bridge's world, comes hand-in-hand with pain. Grief and humor boomerang endlessly off each other. Loneliness is intertwined with self-preservation. All these emotions and states pinball their way out of this Pandora's box of a series, leaving behind a feeling that, in the end, seems a lot like hope.
Hope, plus admiration for how Waller-Bridge, at 33, is able to tell stories that are tightly contained in structure and yet sprawling in their conception of the human experience. The first six-episode series of the BBC and Amazon co-production—based on Waller-Bridge's hit stage show of the same name—introduced the central character, a café owner in London grieving the recent loss of both her mother and her best friend. Fleabag, who continually breaks the fourth wall to share her thoughts with the audience on feminism, familial tension, sodomy, is, in her own words, "a greedy, perverted, selfish, apathetic, cynical, depraved, morally bankrupt woman." She's also totally enchanting. Waller-Bridge's cherubic, maniacal presence and her inexorable side-eye made Fleabag one of the most distinctive productions of Peak TV.
The first season was always meant to stand alone. That the second, which debuts Friday on Amazon, is so successfully additive and so satisfyingly final in its conclusion, feels like a minor miracle. Without spoiling too much, the crux of the last six episodes involves Fleabag finally meeting her match—someone who, like her, has suffered the slings and arrows of outrageous fortune, but whose response has totally diverged from Fleabag's self-constructed armor of casual sex and deflectional humor. Fleabag, in other words, finds religion.
In the first episode, which essentially functions as a one-act play complete with introduction, complication, and …
Source:: <a href=https://www.theatlantic.com/entertainment/archive/2019/05/fleabag-season-2-review-agony-meets-ecstasy/589579/?utm_source=feed target="_blank" title="The Agony and the Ecstasy of Fleabag" >The Atlantic – Culture
(Visited 4 times, 1 visits today)