Cast of Wine Country: It's unrealistic how they drink in movies without getting drunk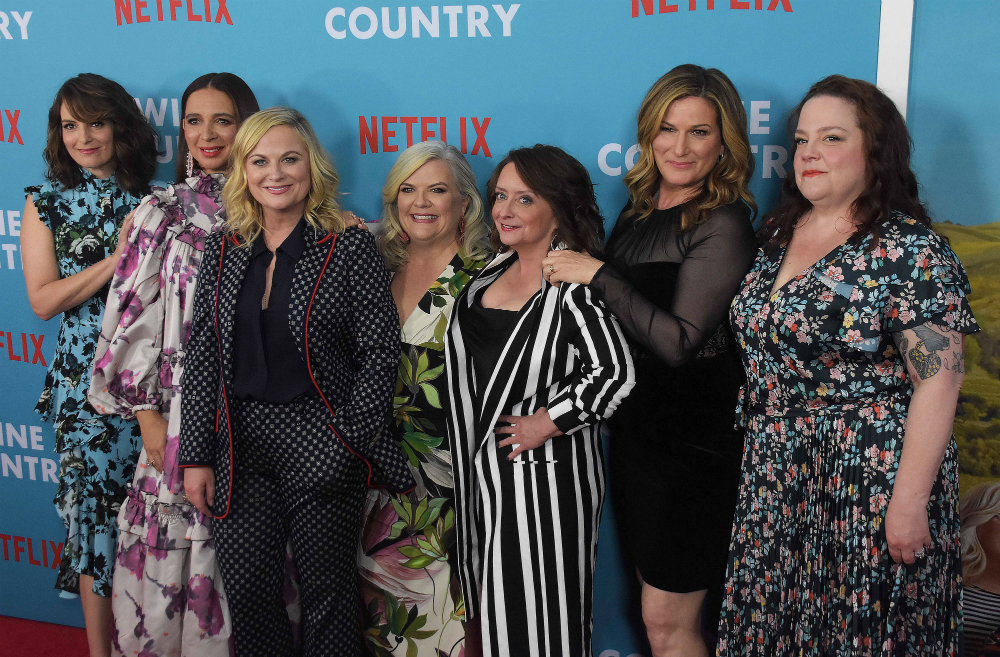 I watched Wine Country earlier this week and loved it. That's not terribly shocking, I love the cast and abuddy girl comedy set in wine country is right up my alley. But my husband loved it too because of the writing. Most of the character development is delivered in well-crafted dialogue. The movie's plot is a love letter to the evolution of friendship. It has a lot of soul to it. It's also truly funny without becoming boffo. Most of the main cast, Amy Poehler, Ana Gasteyer, Maya Rudolph, Paula Pell and Tina Fey, appeared on Busy Tonight Monday and it was an absolute treat. The clips below have a few mild spoilers but the parts I've transcribed don't. The biggest reveal is that the cast didn't drink much wine on set but had some keep track of how drunk they should be to make it more real.
Congratulations on the new movie, Wine Country. I related to it so much and just I feel like everyone needs to know: were you guys drinking real wine?
Amy: Very rarely. I feel like of a lot of this stuff happened in the midday and we would have been a little too sleepy. Alice Stanley, who works on your show, she kept track of the amount of glasses of wine each character had drunk in every scene. If you remember, a couple times, she had a little chart, she'd be like, 'Just remember Maya, that your character has had four glasses'
Maya: I thought you were doing that, and I thought you were a genius
But can I tell you something, that is genius. Because just recently, my husband and I were watching the film where the characters legitimately took literally 14 shots and in the next scene were like, (soberly) Alright, so here's the thing…'
Tina: And then you watch Mad Men and think, 'No, y'all would be dead.'
Amy, This is your directorial debut. What was it like directing some of your closest friends, was that an easy job for you?
Amy: It was. I think a lot of directors like to talk about how difficult things are and therefore what they make is so worthy. But this is really easy.
The hardest part was just getting us to just stop talking and start working.
Tina: It was so great to have a director who knows when that's enough improv. Because a lot of directors bring …
Source:: Cele|bitchy – News
(Visited 3 times, 1 visits today)