Netflix's New Heist Movie Gets Lost in the Jungle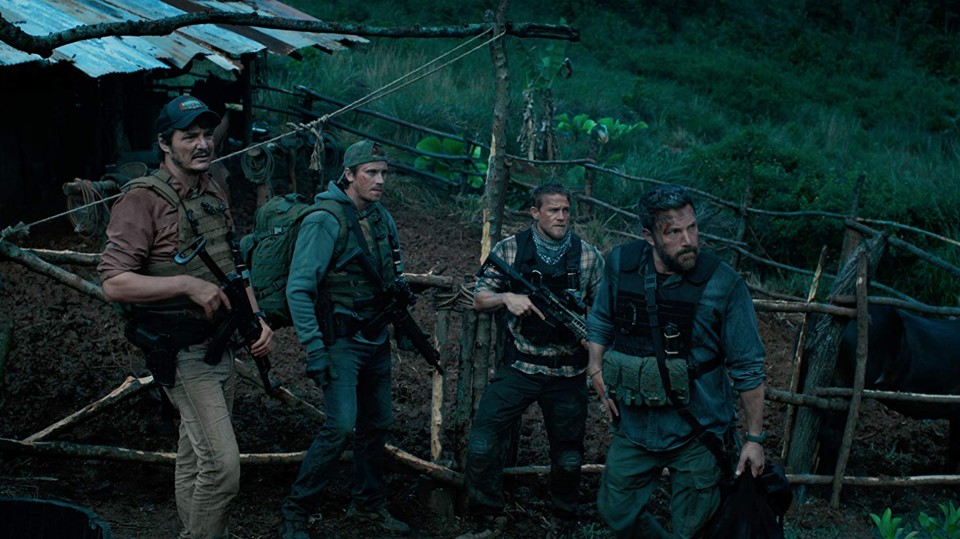 J. C. Chandor can make a strong claim to being the single most intriguing American film director still flying largely beneath the radar. His 2011 debut, Margin Call, was by far the best non-documentary movie inspired by the 2008 financial crisis. His follow-up, All Is Lost, was an almost-wordless exercise in narrative concision. And his third film, A Most Violent Year, was a flat-out masterpiece, a small-bore Godfather featuring an absolutely mesmerizing performance by Oscar Isaac. (If you haven't seen the movie—and, statistically speaking, you probably haven't—do yourself the favor; you will not regret it.)
Alas, just as broken clocks have their moments of accuracy, even the most gifted directors occasionally offer up disappointments. Such is the case with Chandor's fourth film, Triple Frontier. A heist flick set in South America, the Netflix release (it has had a small theatrical run, but can more easily be found streaming on the service) isn't a bad movie, merely a mediocre one, an opportunity missed.
The concept for the film is a story by Mark Boal (of The Hurt Locker and Zero Dark Thirty fame) that has been kicking around since at least 2010. Boal's frequent collaborator, the director Kathryn Bigelow, was initially associated with the picture. So too were, at various points, Tom Hanks, Johnny Depp, Will Smith, Channing Tatum, Tom Hardy, Mahershala Ali, and Mark Wahlberg. Ben Affleck was in, and then out, and ultimately wound up back in again. It's little wonder, in other words, that Triple Frontier feels less like a writer-director's passion project than like a movie-star scheduling puzzle that has finally been solved.
In the form that has now made it to the screen, Triple Frontier stars Affleck, Isaac, Charlie Hunnam, Pedro Pascal, and Garrett Hedlund. The five men are Special Forces veterans who come across a once-in-a-lifetime opportunity when Isaac's character discovers the whereabouts of a drug lord who is hiding in the jungles of South America along with tens of millions of dollars in ill-gotten cash. (The country in question is never named, but the movie's title is a reference to the tri-border area between Paraguay, Argentina, and Brazil.) The ensuing plan is fairly straightforward: Kill a man whom the world will be much better off without, and take his lucre as back-pay for many years of patriotic duty.
The latter idea—that these elite ex-soldiers were never sufficiently compensated for their heroics—is among …
Source:: The Atlantic – Culture
(Visited 3 times, 1 visits today)