The All-American Contradictions of Queer Eye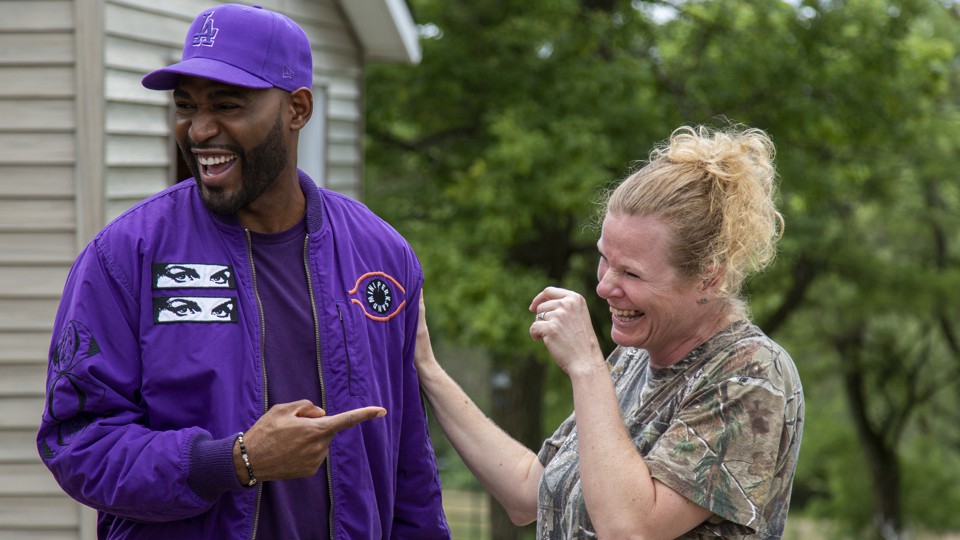 Before the five divine spirits of the Queer Eye makeover crew whooshed into his life, the 47-year-old Joey Greene didn't regularly bathe, cut his hair, buy clothes, cook meals, or deal with the fridge stench described as resembling rotted chicken carcasses that had been eaten and then excreted by a skunk. The director of a summer camp for kids, Greene lived out of a deteriorating RV and barely used his work-appointed cabin. "It's just never been a big deal for me to take care of myself because I have what I need," he explained.
"What's wrong with wanting something that you just want, not that you need?" replied Tan France, the clothes guy.
"The way I grew up I got it in the back of my head that that was selfish."
Greene's take on humility may seem radical, but similar sentiments echo throughout Queer Eye's third season. By now, viewers are well aquainted with the telegenic stars of Netflix's hit reboot, their ability to not only offer haircuts but also therapy, and their interest in polishing up not only straight guys but also schlubs of all varieties. Yet the show's relocation from Atlanta to Kansas City, Missouri, has turned up a fresh and motley slate of domestic crises. A camo-wearing prison guard who wouldn't mind femming up her wardrobe, two sweat-shellacked barbecue pitmasters, a lesbian who's been rejected by her parents, and a slew of beleaguered dads—one about to be married, one expecting a baby, one grieving his wife's death—are among the targets. Each receives eerily similar advice. Ask for help. Take time for yourself.
The rhythm of Queer Eye teeters ever more between comfortingly familiar and droolingly rote, and the show's sappiness was always almost as grating as it was life-affirming. As before, though, two factors save the series. One is the chemistry of the Fab Five, who grow ever-more-wacky with each season, but who also pull off the appearance of caring about their subjects as full-fledged people. The other is the inherent human interest of the makeover recipients' stories. Each episode requires detective-work—for the viewer as much as for the Fab Five—to figure out what really underlies these folks' all-instant-ramen diets or all-flip-flop footwear regimens.
Queer Eye basically gives the same answer to such mysteries every time. The issue is, to borrow terminology from another 21st-century gay TV fixture, the "inner saboteur." It's not just that these people lack the know-how or …
Source:: <a href=https://www.theatlantic.com/entertainment/archive/2019/03/queer-eye-season-3-review/584812/?utm_source=feed target="_blank" title="The All-American Contradictions of Queer Eye
" >The Atlantic – Culture
(Visited 2 times, 1 visits today)