Lady Gaga's R. Kelly Apology Is a Reminder That Abuse Isn't Provocative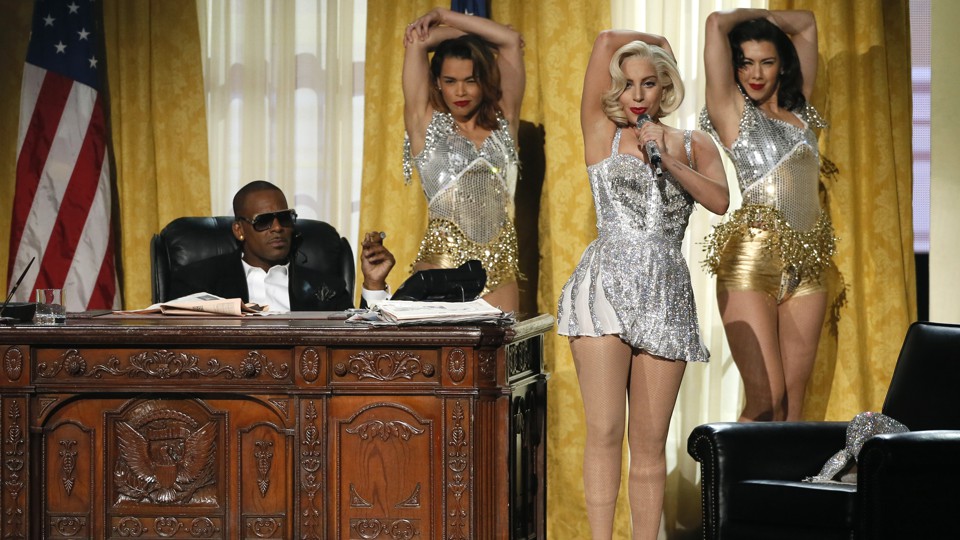 Lady Gaga lays on an operating table, R. Kelly reaches under her sheet and toward her groin, and Gaga moans. Sedatives kick in, and Kelly and a crew of scantily clad nurses start gyrating on her sleeping body.
Yikes. So went the leaked footage from the never-released music video for Gaga's 2013 single "Do What U Want." At the time of its production, a source who'd seen the footage—which was shot by fashion photographer Terry Richardson, who like Kelly had been denying sexual assault accusations against him for years—told Page Six, "It was literally an ad for rape."
Now, Gaga has removed the song "Do What U Want" from iTunes and other streaming services and apologized for working with Kelly. "What I am hearing about the allegations against R Kelly is absolutely horrifying and indefensible," she said in a lengthy Twitter note Thursday. "I'm sorry, both for my poor judgment when I was young, and for not speaking out sooner."
[Read: R. Kelly and the cost of black protectionism]
The apology is a testament to Surviving R. Kelly, Lifetime's six-part exposé about the girls and women Kelly has allegedly preyed on. While John Legend was the only high-profile musician to disavow Kelly in the documentary, pressure appears to be mounting on the R&B star's former collaborators. Chance the Rapper and Phoenix apologized for singing with him, Omarion said B2k would no longer perform songs recorded with him, and Future gave a strained non-answer when asked if he'd work with Kelly again.
Gaga's statement is an unusual one, though, as is the song she has to answer for. The lyrics of "Do What U Want" are about surrendering to physical domination, and at the time, they most clearly referred to the demands of fame: "You don't own my life but / Do what you want with my body," was a taunt to the ogling tabloids. Kelly's involvement fit this theme, Gaga explained back then, in a manner that's stomach-churning to read now. "R. Kelly and I have sometimes very untrue things written about us, so in a way this was a bond between us," she told reporters who asked about the accusations against him.
Those accusations were, thus, part of the art, coloring its meaning. Kelly's involvement made it a song not only about fame, but also alleged sex across creepy power differentials. This …
Source:: The Atlantic – Culture
(Visited 3 times, 1 visits today)