Dennis Quaid, 64, isn't ruling out a fourth marriage to his 32-year-old girlfriend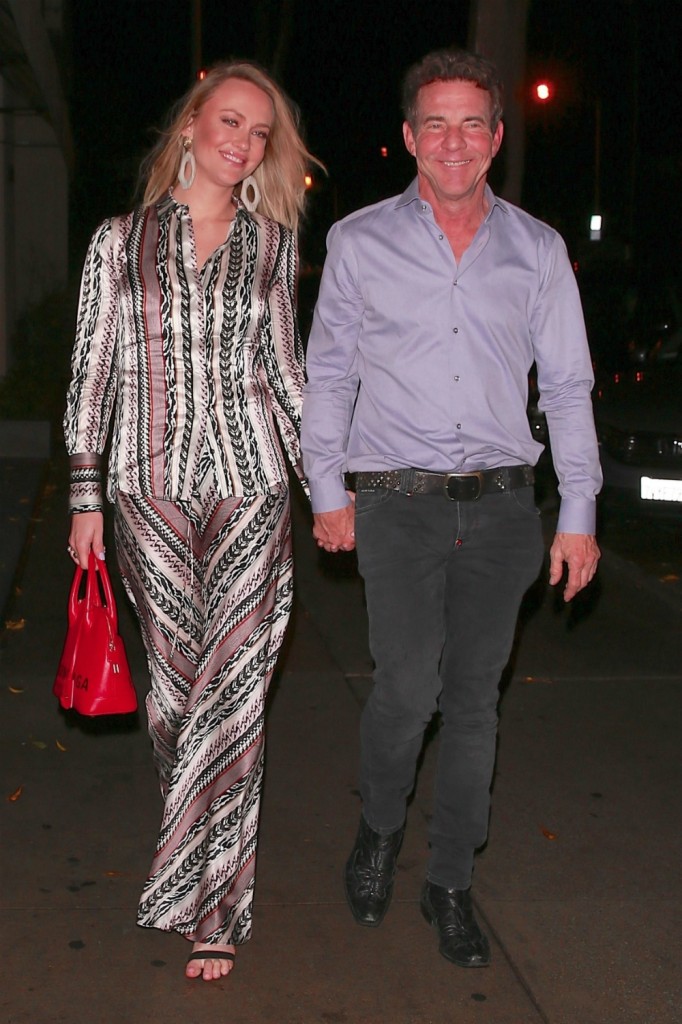 Dennis Quaid and his 32-year-old girlfriend, Santa Auzina, are still going strong, apparently. The couple have been together since 2016, famously getting together just two months after his split from third wife, Kimberly Buffington. The photos are from Wednesday night after they were spotted having dinner at Craig's in West Hollywood. I kind of love Santa's pj-inspired outfit. And I actually own a bathrobe-inspired coat that would match it perfectly. So now that these two crazy kids have logged two-years together, will Dennis make his fourth trip down the aisle. Uh, possibly, according to Dennis, who, "never count(s) anything out."
Saying "I do" again? Dennis Quaid opened up about his love life and the possibility of getting married for the fourth time in an exclusive interview with Us Weekly.
"I never count anything out," the actor, 64, told Us of getting hitched to girlfriend Santa Auzina at his Out of the Box album release party with his band, The Sharks, on Tuesday.
As for his relationship with Auzina, the Day After Tomorrow star says it's pretty normal, despite their celebrity status.
"We love to go to dinner. I love to go to dinner at Catch, that's our favorite restaurant. Love that place," he said of typical date nights with his 32-year-old girlfriend. "Or just make a special night where we're on the road. Go someplace and have her find a great restaurant that she really wants to go to. Or something like going to The Nutcracker with the kids. Whatever it is to get out."
[From Us]
If Dennis is one of those people who falls in love with love, then I guess – good for him? If these women don't know what they are getting at this point, I can't really help them. "The kids," to which he's referring, would be Dennis' oldest, Jack, his 26-year-old son with Meg Ryan, his 10-year-old twins with Kimberly and Santa's two young twin girls. That's a whole lot of young people for Dennis to keep up with. Dennis recently said that for Christmas, he and Santa (tee-hee) would be, "chilling out in Hawaii… doing nothing but watching the kids and chilling." How does one 'chill' with four kids 10 and under?
I am a terrible gauge of true age, probably because I'm about to turn 50 and my eyes are shot, but there is some question in the CB workroom about whether Santa is …
Source:: Cele|bitchy – News
(Visited 2 times, 1 visits today)