Tilda Swinton: 'I feel… that Scotland is a naturally independent country'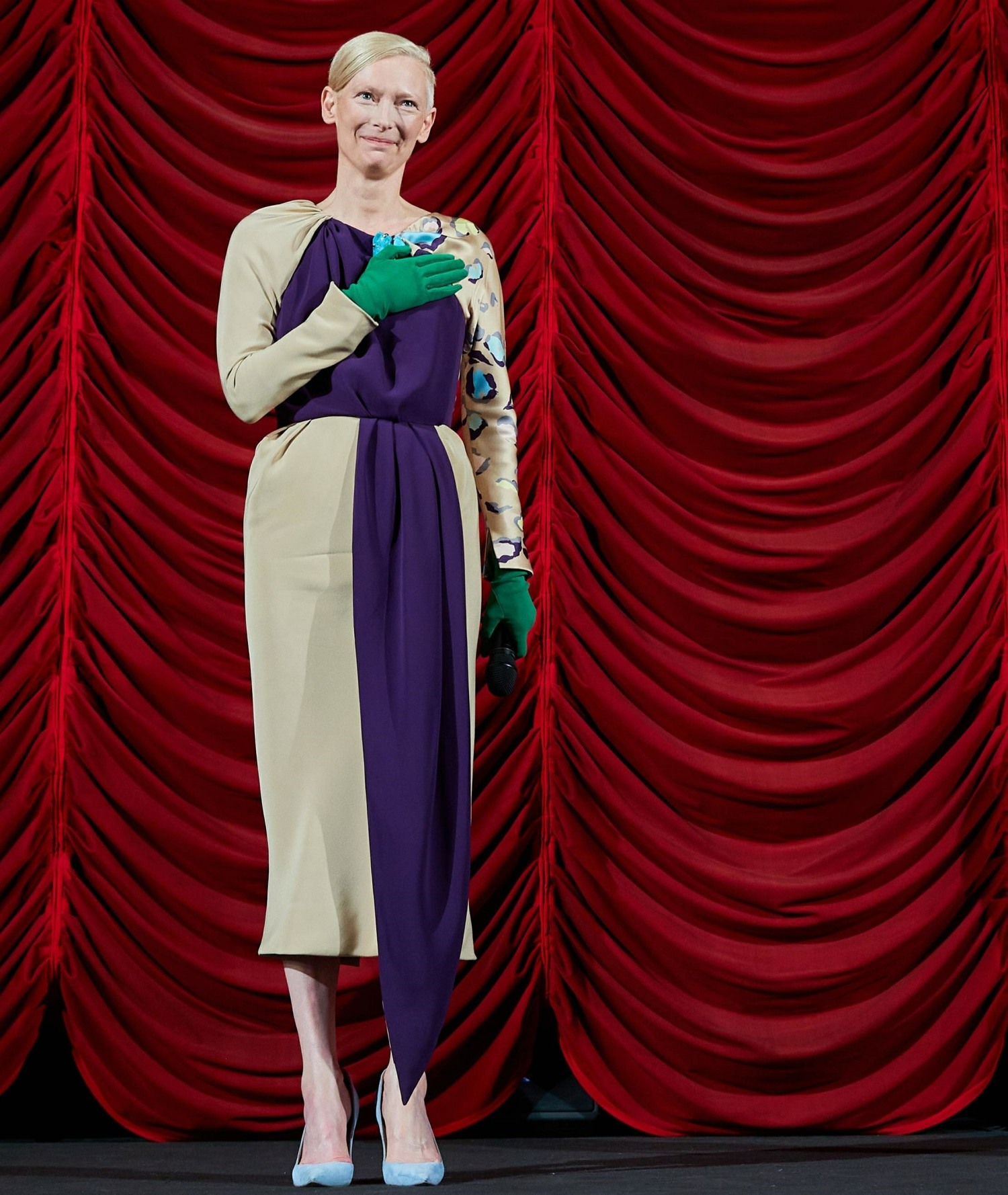 Sometimes, it just calms me to see Tilda Swinton in a crazy outfit. She is my constant, my weird-alien constant. Tilda decided to promote Suspiria at the Vienna Film Festival on Monday, and she decided to wear one of the strangest outfits I've ever seen. The Schiaparelli Haute Couture dress itself is just bad – a purple bodice, with weird beige-y sleeves and some kind of vague animal-print? But the addition of green gloves is especially strange. I'm not even going to bother questioning it, honestly. I appreciate that she's one the few people doing weird sh-t just for the sake of it. Tilda also attended an art exhibition while she was in Vienna – she happily posed with her younger lover, Sandro Kopp. She's 57 (in human years) and he's 40 – you can see photos here.
I think Sandro lives in Scotland, with Tilda and her sons. Tilda has always lived in Scotland, but how does she feel about Scottish independence, or "Great Britain" and all of that?
Tilda has repeatedly emphasised her nationality despite frequent confusion over her accents, which she has described as sounding like "something out of 1930s BBC". In a new interview with the BBC, Swinton has clarified her position, stating: "I don't quite believe the word British. I feel like it's sort of a strictly-for-export term. I don't really know what it means. I think it has something to do with a sort of political attitude."
The Doctor Strange star, whose grandfather was Scottish politician George Swinton, went on: "I have lived in Scotland full-time for the last 20 years, I was brought up in Scotland through my childhood, I am from a family that has lived in Scotland for centuries. I have never felt English, and I have never felt British, politically. I am happy to describe myself as Scottish and I feel, like many people, that Scotland is a naturally independent country."
[From The National Scotsman]
I assume this means that she supports Scottish independence? Are they going to have another vote on that, or did it get sidelined by Brexit bullsh-t? I don't really have a dog in this hunt, but I tend to believe that more often these days, Scottish people are feeling more like Tilda. It's like a natural evolution – they don't feel British, …
Source:: Cele|bitchy – News
(Visited 3 times, 1 visits today)