A Rare, Intimate Look Into the Making of The White Album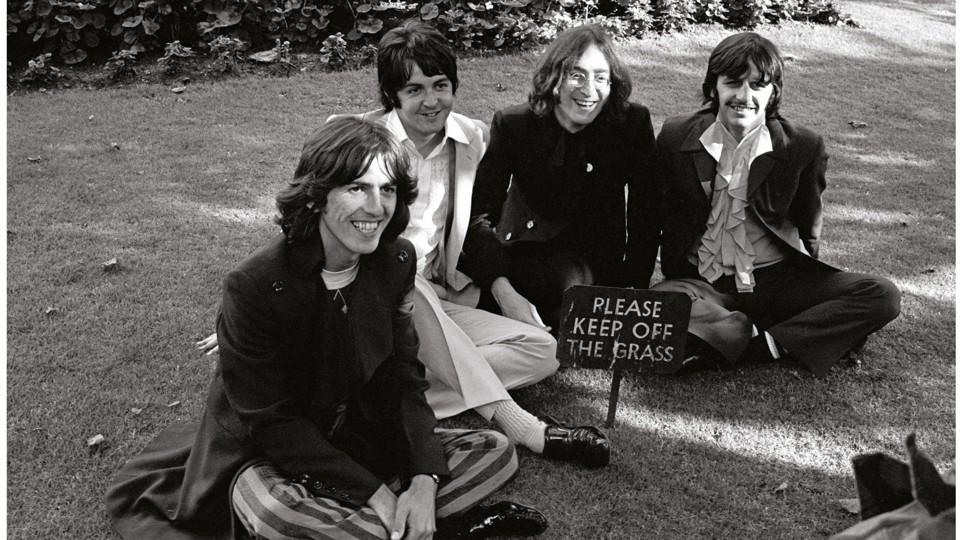 If The White Album were a concept album, the concept would be this: The world's greatest four-piece, comprising two geniuses, one great and searching songwriter, and a magical melancholy drummer-clown, is breaking up—it just doesn't know it yet.
Mid-1968: The Beatles, newly returned from their trip to the Maharishi's meditation commune in Rishikesh, India, are in an undirected and febrile state. Brian Epstein, manager and whipcracker, is dead. At Abbey Road, where they have the run of the studio, a combination of loosey-goosey late-night scheduling, wild productivity, and increasingly fussy recording habits (99 takes of a George Harrison song—never to be used, in the end—called "Not Guilty") has worn out their greatest musical ally, their supreme editor and controller of quality, producer George Martin. And band telepathy is out of whack: John has fallen ego-dissolvingly in love with Yoko, who goes everywhere with him.
[Read: How The Beatles wrote "A Day in the Life"]
So after the noospheric jackpot, the global love-ripple that was Sgt. Pepper's Lonely Hearts Club Band, and the misfire of Magical Mystery Tour (both highly imagined, overtly conceptualized, McCartney-determined projects), The Beatles. Or The White Album, as the world knows it. Thirty songs pulling in 20 different directions, multi-polar, spiking and troughing, inventing genres or exhausting them, earthy, heavenly, now dazzled by clear light, now plunging willfully into chaos and carnality.
"Long, Long, Long" is George's waltz with God, murmuring almost shapelessly upward out of an abyss of yearning—of longing—towards the awesome punctuation of Ringo's drum-fills. John's "Yer Blues" is cosmic gutbucket, arch primitivism, an ironic howl from the floor of the universe: "In the morning / Wanna die / In the evening / Wanna DIE." Paul, more protean than ever, is at once the immaculate primping formalist of "Martha, My Dear," widening his eyes at the keyboard, the crystalline innocent of "I Will," and the frazzled distortion addict of "Helter Skelter." And Ringo sings "Good Night" with shimmering, doleful-consoling authority, an impresario of dreamland.
What, then, to make of this enormous reissue package, The Beatles (White Album) Super Deluxe? Seven discs—demos, sessions, a remastering—and a great big book. Doesn't it just magnify the sprawl, increase the luggage, barnacle with further add-ons and special features this already ungainly rattle bag of a record? Answer: Yes but no, or yes but who cares, because this is The Beatles, and we want it all.
[R[Read: The famous partnership of John …
Source:: <a href=https://www.theatlantic.com/entertainment/archive/2018/11/beatles-white-album-story-behind-music/575398/?utm_source=feed target="_blank" title="A Rare, Intimate Look Into the Making of The White Album" >The Atlantic – Culture
(Visited 1 times, 1 visits today)