Lucia Berlin's Harrowing, Radiant Fiction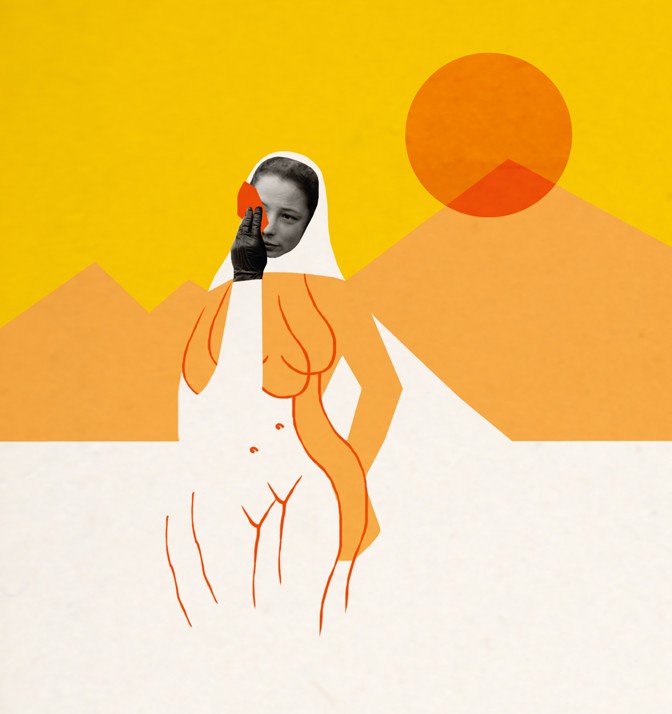 Illustration: Celina Pereira; Nationaal Archief / Wikimedia
There's a mountain recluse who appears twice in Lucia Berlin's prose, once in a story from her 2015 collection, A Manual for Cleaning Women, and once in an autobiographical scrap from a new book, Welcome Home: A Memoir With Selected Photographs and Letters. She describes meeting the man when she was a little girl; her father had befriended him and, before the snows began, would visit with Berlin in tow, lugging stacks of magazines with them through the woods. While the men talked, Berlin was given a task: tearing out the pages of the magazines and using them to wallpaper the man's cabin.
All through the dark days of winter Johnson would read the walls. It was important to mix up the pages and magazines, so that page 20 might be high on a north wall and 21 on the bottom of the south wall … Whenever he read a page he had to invent the story that went with it, amending it sometimes when, days later, he would find a connected page on another wall. When he had exhausted the potentials of his cabin he would repaper it with more pages in a similarly random order.FSG
In Welcome Home, Berlin suggests that this was her first lesson in literature. It's a touch too poetic an origin story, maybe, but you can see its motifs—isolation, wilderness, a ragged narrative that needs to be reassembled—all over her body of work. Berlin's short fiction came to wide attention, 11 years after her death in 2004, with the posthumous publication of A Manual for Cleaning Women, which is joined this fall by Welcome Home and another set of stories, Evening in Paradise. These two additions reveal how powerfully Berlin's literary imagination was shaped by the twin beliefs seeded in her encounter with the recluse's wallpaper: that stories can keep you company—keep you sane—during periods of deep loneliness, and that stories improve when they're fractured and opened up for intervention.
This scene's appearance in both story and memoir also highlights the now apparent overlap between Berlin's fiction and her extraordinary, difficult life. She was born in 1936 in Alaska, and her father, who worked as a mining engineer, moved the family every few years throughout the American West until the family settled in Chile when Lucia was a teenager. Her mother suffered from debilitating depression and alcoholism, and her …
Source:: The Atlantic – Culture
(Visited 4 times, 1 visits today)