Keira Knightley on her childbirth essay: 'I absolutely did not shame anybody'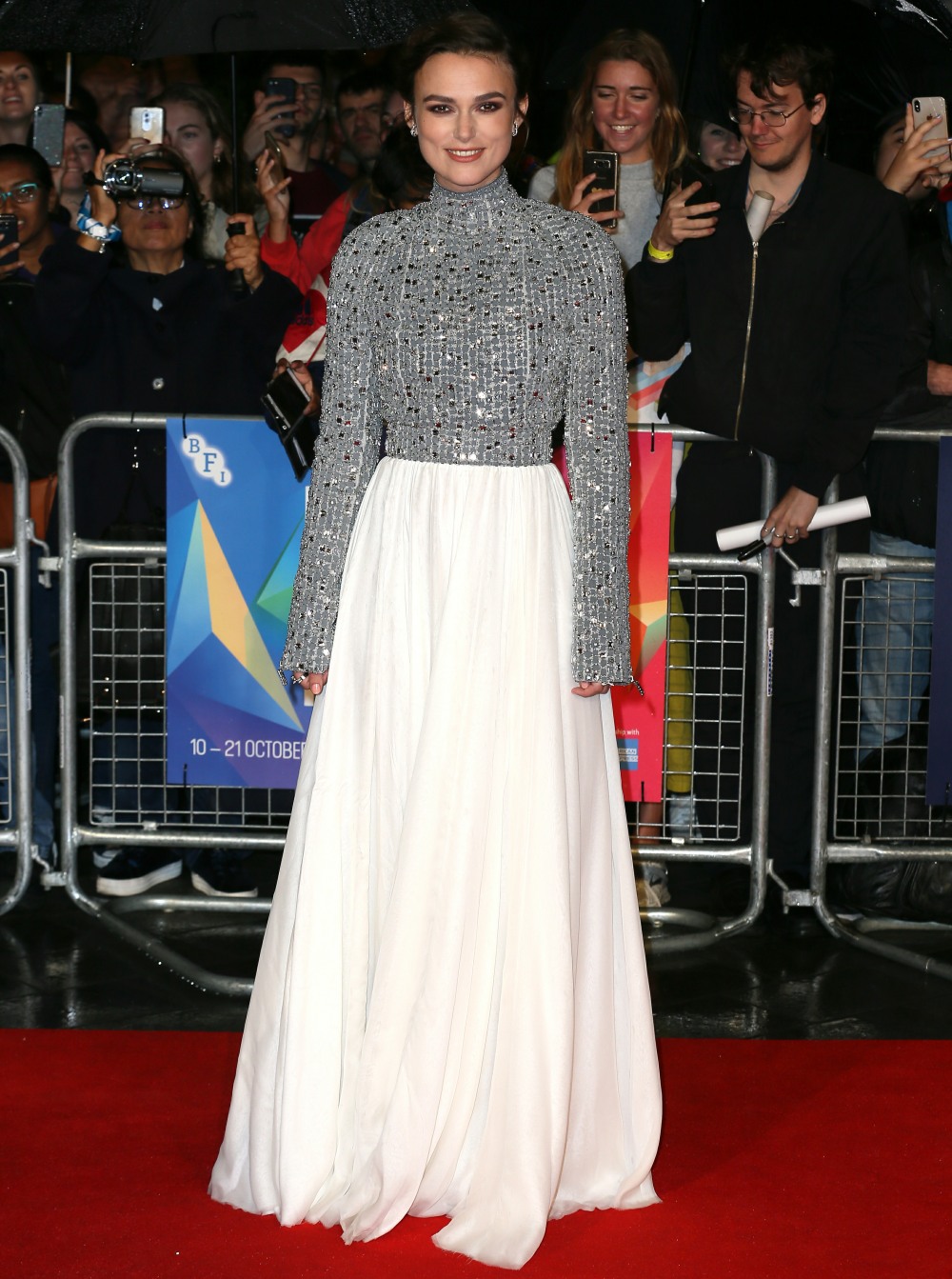 Here are some photos of Keira Knightley at Thursday night's premiere of Colette, as part of the BFI London Film Festival. Keira wore this rather interesting Chanel gown… or is it a two-piece? The thing about this is that I feel like either part would have made a stunning dress, but put together… it sort of looks off-kilter a little bit? Like, if this was a simple white gown entirely using that skirt material, it would have been lovely. If the beaded top was a cocktail dress, it would have been incredible. Even putting the top with a pair of silver-grey silk trousers would have been awesome. Still, she does look good here.
Meanwhile, as we covered previously, Keira contributed an essay for a feminist essay collection called Feminists Don't Wear Pink (And Other Lies). Keira's essay was all about the beauty standards for women, and how it's awful that we, as a society, expect new mothers to look done-up with hair and makeup right after giving birth. Keira name-checked the Duchess of Cambridge for her happy and breezy photocall with Princess Charlotte just seven hours after giving birth. Well, "palace sources" had some sh-t to say to Us Weekly:
"Keira is obviously entitled to her own opinion, but it was very much based on her own experiences and not of Kate's. Not every mother feels the same way," the Palace source told Us. "Keira's comments were simply for attention and they weren't justified."
The source added that Kate was happy to have her her picture on the Lido Wing steps and pointed out, "she wouldn't have done the photo call a second and third time if she was uncomfortable." Though Kate managed to look flawless after giving birth, she has never claimed being a mother is easy. "Kate has spoken out about the struggles of parenthood," the source noted.
[From Us Weekly]
Honestly, I doubt Keira is even really on Kate's radar. Palace sources might have sniffed – "Keira's comments were simply for attention" – but I doubt Kate really cares one way or the other. And for what it's worth, Keira's comments weren't simply for attention – she had a point about society and mommyshaming and all of that, she just made her point poorly. Incidentally, at this premiere, Keira was asked about the essay, and she …
Source:: Cele|bitchy – News
(Visited 3 times, 1 visits today)