Kanye West to Donald Trump, in the Oval Office: 'I love this guy right here'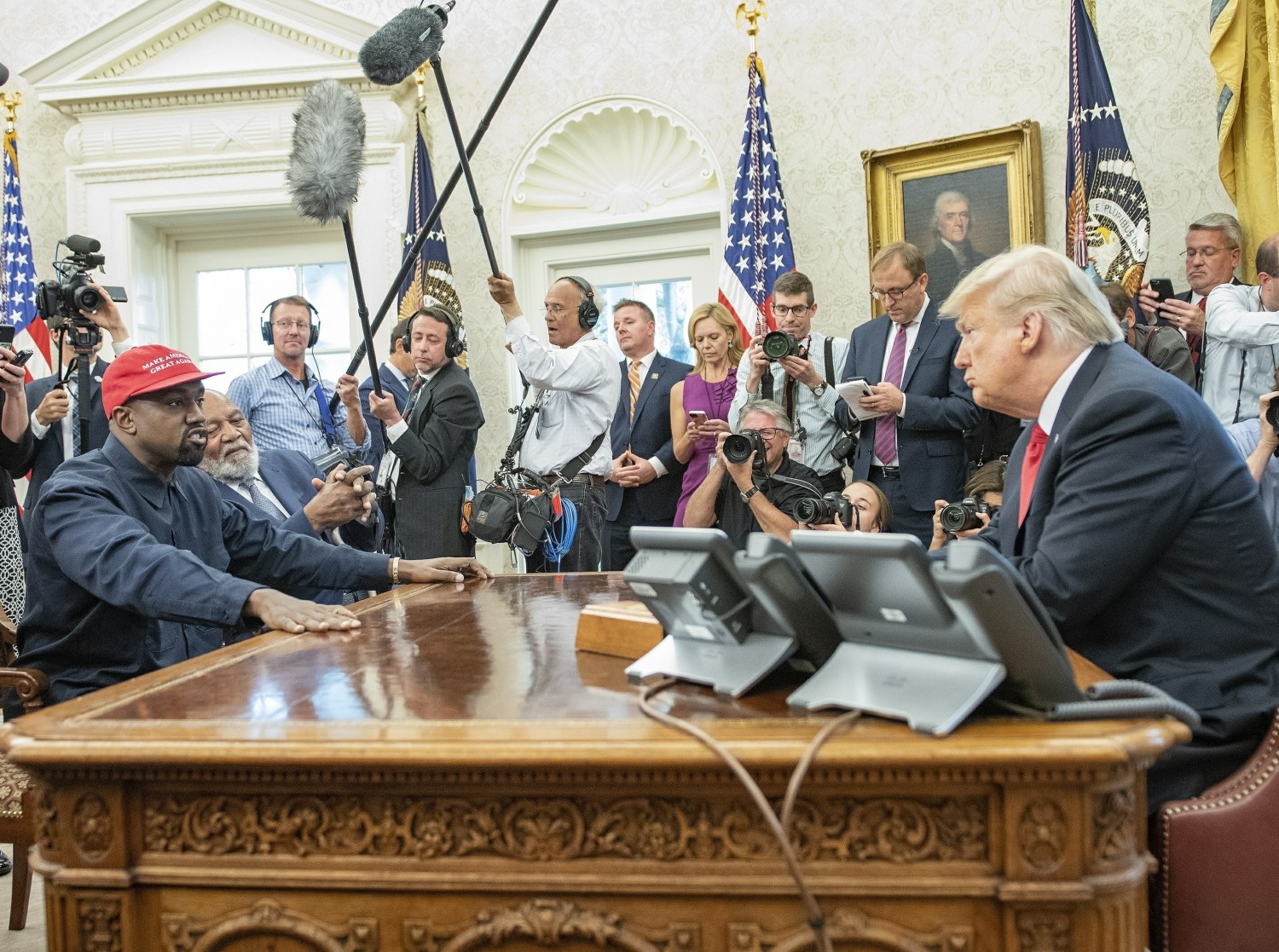 Well, it happened. Kanye West went to the White House. He met with Donald Trump and they posed together in the Oval Office, where Kanye gave a rambling, curse-filled speech and declared his love for Trump. This was before they had lunch. At one point, Kanye went to Trump's side of the Resolute Desk and hugged him. The whole thing was awful and embarrassing. Let's see how the political sites covered it. From Roll Call:
After multiple expletive-laden monologues in front of the press in which he referred to himself as "motherf—–," claimed President Donald Trump "stopped the war" with North Korea, and hammered his fists emphatically on the famed Resolute Desk of the Oval Office, rapper Kanye West wheeled around to the other side of the desk and gave the president a hug.
"I love this guy right here," West said, embracing Trump while wearing the president's trademark red "Make America Great Again" ball cap.
"That's really nice," the president said, beaming toward the cameras behind the right shoulder of the man they call Yeezus. At a press conference before the pair broke for a private lunch, West praised Trump at length, touching on his handling of North Korea's increasing nuclear and intercontinental ballistic missile capabilities, his thoughts on gun control, his "love" for Hillary Clinton, and how "boring" school is.
"They tried to scare me, my friends, to not wear this hat, but this hat, it gives me power in a way," West said of the red MAGA hat he wore to the meeting. "When I put this hat on, it made me feel like Superman — my favorite superhero. You made a Superman cape for me."
When asked by a member of the press for his opinions on gun control, West, who is from Chicago, a city with some of the highest violent crime volume in the country, responded candidly. "Illegal guns is the problem, not legal guns," West said. "We have the right to bear arms."
[From Roll Call]
I'm including the video below. The video made me more uncomfortable than just reading Roll Call's efficient and disturbing summary. It's a mess. I've said for months now that Kanye is canceled, but it's more than that now: now he's in the realm of Ted Nugent. Meaning, Kanye is so disturbed and out-of-it and hypocritical that we just need …
Source:: Cele|bitchy – News
(Visited 1 times, 1 visits today)