Neve Campbell: Fame 'hit so fast and so big that it was a little overwhelming'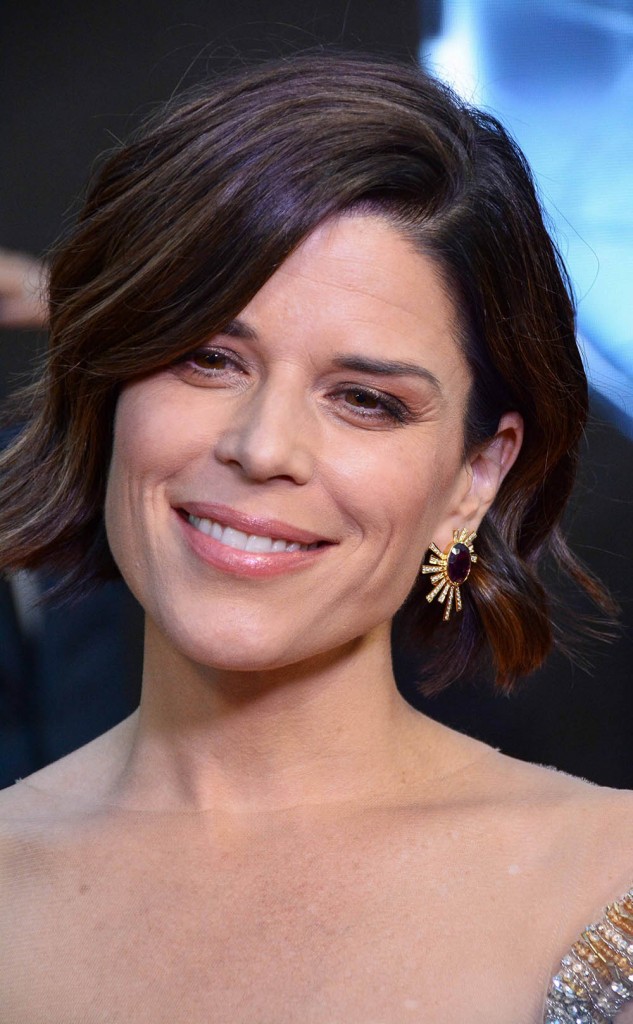 Back in the late 90s, you couldn't miss Neve Campbell. She gained TV stardom on Party of Five and was in a ton of memorable movies, including Wild Things, Scream and one of my personal favorites, The Craft. (All hail Manon.) Save her recent recurring role on the fourth season of Netflix's House of Cards, the 44-year-old actress has been absent from the screen and, thankfully, Stephen Colbert is on the case of her disappearance.
Neve is back in a big way, co-starring with The Rock (a/a/k/a Dwayne Johnson) in his latest action adventure flick, Skyscraper. She popped into The Late Show with Steven Colbert, telling Colbert she's always wanted to do an action movie and offering some behind the scenes dish that The Rock is very curious about what everyone's eating on set.
When asked why she took a break from the business, moving to London, she admitted, "I just needed a minute. It was a long minute. It was a good minute." She went on to say:
"In my twenties, it all hit so fast and so big that it was a little overwhelming—wonderful, obviously, and I'm very grateful for it. But it got to a level also where the kinds of things that I was being offered were not the kinds of things I want to do. I was constantly being offered horror films, because I was known for horror films. Or bad romantic comedies. I just wasn't interested in the scripts and I was feeling a bit unhappy with the things that were coming to me. And I was feeling a little bored with the whole thing. I thought, 'I want a change.' So, I moved to London."
"I was completely anonymous there. It's just very different there. I literally did not get bothered once! People would ask me what I did for a living. I'd say, 'I act,' and they'd say, 'Oh, Okay.' It was so lovely!"
[From The Late Show with Stephen Colbert via E! News]
In addition to Skyscraper, Neve is also in the upcoming film Hot Air with Steve Coogan. I'm glad she's back and hope she gets an offer for a good horror movie soon, as I have no interest in seeing Skyscraper. Neve is also busy with mom duties as she and her boyfriend JJ Feild welcomed their second son, whom they recently adopted. Neve has another son, Caspian, who is …
Source:: Cele|bitchy – News
(Visited 1 times, 1 visits today)