Donald Trump wants to redesign Air Force One to look less 'Jackie Kennedy'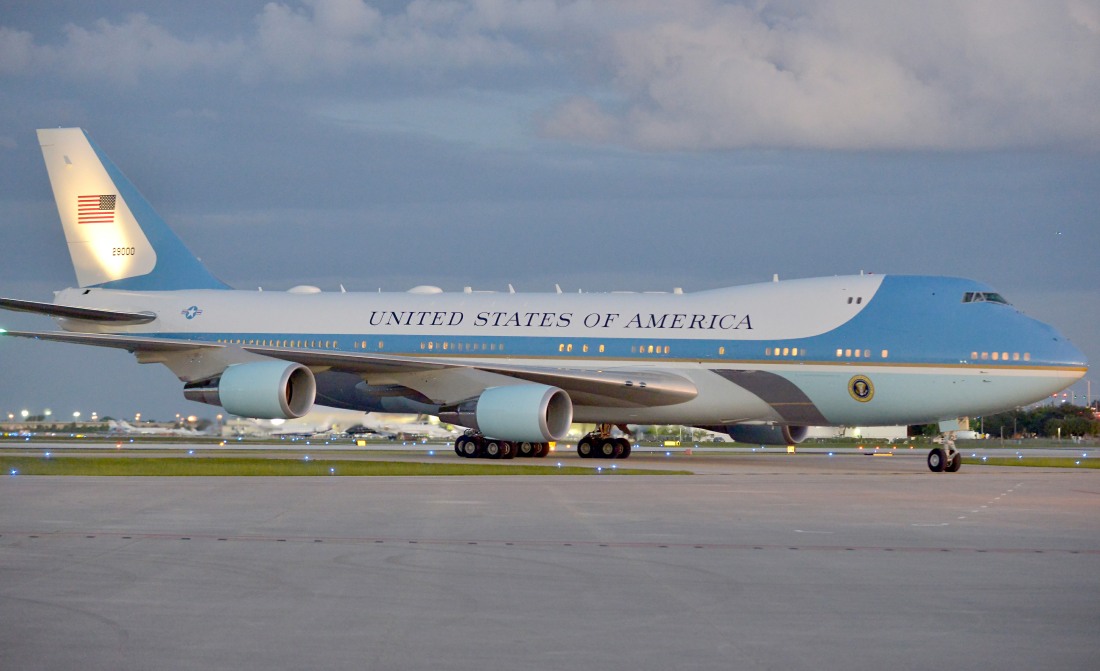 Air Force One is arguably the most iconic plane in the world. I would argue that its timeless, mid-century design has something to do with that. Jackie Kennedy was the one to redesign Air Force One stylistically, working with American designer Raymond Loewy on the color scheme and font for the outer script. No president or FLOTUS has ever touched Kennedy and Loewy's outward design, although of course subsequent presidents and FLOTUSes have put their own marks on the plane's interiors. Well, Donald Trump can't help himself: he wants a new Air Force One and he wants it to look less iconic and beautiful.
President Trump wants to update the paint job on the next version of Air Force One, ditching the iconic robin's-egg blue (which he calls a "Jackie Kennedy color") for a bolder, "more American" look. Trump rarely gets into the weeds of government negotiations. But he sat down in the Oval Office with Boeing CEO Dennis Muilenburg in February to personally hammer out the $4 billion deal for a pair of replacement 747s for use as Air Force One (the call sign for whatever aircraft the president is on).
Axios has learned that Trump had one specification for the plane that could cause tension with the Air Force and surprise around the world: Trump wants to change the plane's signature blue-and-white look that goes back 55 years, to a redesign of the presidential aircraft by President John F. Kennedy and First Lady Jackie Kennedy in the early 1960s. We're told that Trump wants a color scheme that "looks more American" and isn't a "Jackie Kennedy color." He doesn't think the current blue (technically "luminous ultramarine") represents the USA. The president's preferred design is believed to include red, white and blue.
"He can do it," said a source familiar with the negotiations, when asked about whether Trump can make the change. But the change could cause friction with the Air Force. We're told some top officers like the current look, which they point out is "known around the world."
[From Axios]
Again, the actual physical plane gets replaced and upgraded every few years and each president puts their own mark on the interior. But no president has ever dared to touch Jackie Kennedy's design, because why would they? It's beautiful, those two shades of blue and the font …
Source:: Cele|bitchy – News
(Visited 5 times, 1 visits today)