Tech Discrimination: Why Can't We Attract More Women To STEM?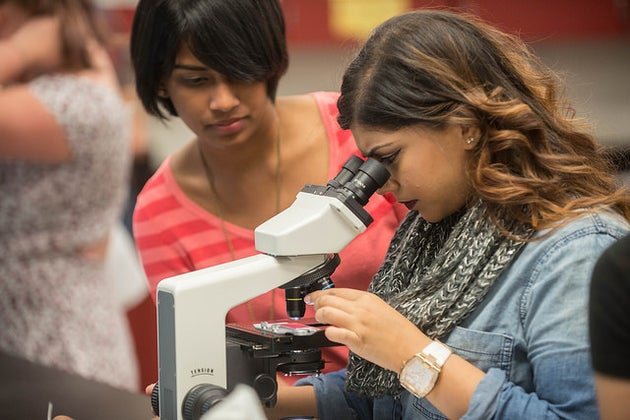 As a little girl, my friend's daughter was fascinated by all kinds of creatures, from puppies to beetles to the litter of newborn rats she discovered in the garden shed. Her ambition was to study biology, or perhaps become a vet. She had the academic chops and the grades to do so, but in the end, she took an arts course at university, got bored and dropped out. What happened?
This is the question many are grappling with as they struggle to get more young women into careers in science, technology, engineering and maths. And it's being asked with increasing urgency as we face a serious skills deficit in STEM that may only worsen once we're out of the EU.
We need every skilled, able person we can muster to lead the 'fourth industrial revolution' — yet our efforts to attract more women to STEM-sector roles are starting to 'unravel'.
For their part, if women don't get more involved in cutting-edge industries they risk greater inequality and pay disparity, warns the WEF.
The good news is that there are loads of initiatives that seek to support girls and women who want to pursue careers in STEM. We've got role models, dating back from the legendary Steve (Stephanie) Shirley, to Nobel prize-winner Elizabeth Blackburn, to Martha Lane-Fox, to the young entrepreneurs of today.
More girls are taking science, tech or maths subjects at A-level, according to research by The Times newspaper. The number of women who achieved a Core-STEM apprenticeship rose last year, says WISE, the organisation that campaigns for gender equality in science, tech and engineering.
But too few are sticking with STEM beyond A-level. "In nearly all countries, more girls appeared capable of college-level STEM study than had enrolled," says a paper by Gijsbert Stoet and David Geary.
So are girls just not that into it, as one (male) robotics undergrad suggested to me recently? Or does something happen to put them off?
The C-word: Our old friend, confidence, appears to matter. Girls are far less likely to claim they are 'naturals' at maths than boys, according to a recent NESTA and Maths Mission study. But far more limiting are the stereotypes girls must conform to at school. A young Sheryl …
Source:: The Huffington Post – UK Entertainment
(Visited 3 times, 1 visits today)