Postmen Banned By Royal Mail From Flying Flags During World Cup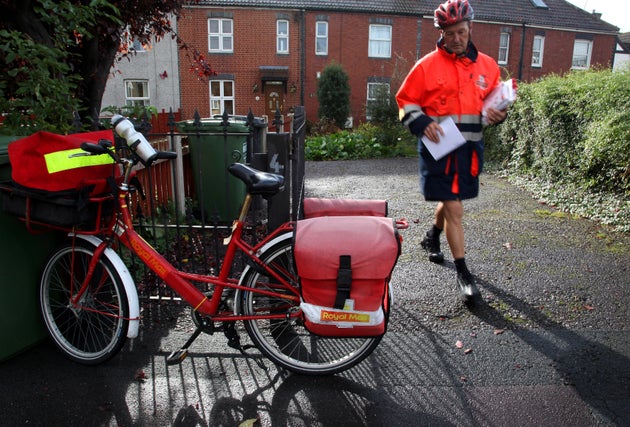 Royal Mail has warned postmen not to fly flags or place stickers on their vans, bikes and trolleys during the World Cup due to safety fears.
Workers have branded the decision "bonkers" and said it stops them from showing their support for their home nations during the football tournament which kicks off in Russia today.
Royal Mail employs some 125,000 delivery staff working from 1,400 depots across the country.
The company has had the directive in place for previous World Cups as flags can pose a safety risk to other drivers if they become detached whilst driving.
A postman in South West London told the Daily Mail: "It's bonkers, frankly. Many posties are football fans and want to show their support for England – but we're not allowed to do so."
In a statement, the Royal Mail said: "Flags should not be flown on vehicles as Royal Mail has a duty of care both to all employees and to members of the public.
"This is a company-wide policy which covers flags and stickers on trollies, bikes, vans and lorries.
"No other flag or insignia should be carried next to the Royal Mail brand and insignias."
But some commentators have branded the decision as "petty" and unpatriotic.
Postmen banned from flying England flags on their delivery vans during World Cup. So much for patriotism at @RoyalMail
— Andrew Pierce (@toryboypierce) June 13, 2018
Royal Mail should just let posties fly England flags on vans during the World Cup. Ban looks petty pic.twitter.com/ChEIV0OoGl
— Kevin Maguire (@Kevin_Maguire) June 13, 2018
As a concession the company will display flags at "offices up and down the country" as well as playing "live radio commentary on PA systems during matches".
Source:: The Huffington Post – UK Entertainment
(Visited 1 times, 1 visits today)