Housing Inequality In Kensington And Chelsea Reeks – Fixing It Will Be Grenfell's Legacy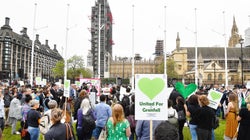 Tony Benn once said: 'We are not here to manage capitalism, but to change society and to define its finer values.'
Tony was a lifelong resident of Kensington and helped us with local campaigning whenever he could. I'd like to think he's smiling down on us now, from socialist heaven.
Our housing crisis is due to the financialisation of the sector, which has benefited very few.
In Kensington and Chelsea, the borough I still represent as local councillor, and the constituency of Kensington, which I represent as MP, is a microcosm of everything that has gone wrong with housing in my lifetime.
I was born in a terrace house in Chelsea, where my parents, Spanish granny, and we six children lived. My father, a hospital doctor, supported us all. We did our own repairs and decorating and wore hand-me-downs, but we could pay the bills and had food on the table.
A hospital doctor today could not possibly support nine people anywhere, let alone in Chelsea.
Housing inequality in the borough is the worst in the country. And I proved it in my report, published last November 'After Grenfell: Housing and Inequality in Kensington and Chelsea: "the most unequal borough in Britain"'.
So how many empty homes do we have in total, private and social rented?
The Empty Homes Agency has been given the figure of 63 Council-owned, and 240 HA empty last year – but I believe the true figure of empty Council homes is in the 100s.
When the Kensington and Chelsea Tenant Management Organisation (KCTMO) handed over management to the Council recently, a list of 3,500 repair jobs came with it. 3,500. And that failure to repair has left people living in unimaginable squalor. I do not use that term lightly.
Which brings me onto our Grenfell survivors, bereaved and the near neighbours who simply cannot bear to be near the site of the worst peacetime atrocity in modern English history.
Those of us who could bear to listen to the pen portraits at the Grenfell Inquiry these last two weeks will have heard the testimonies, among so much indescribable pain, of disabled people who should never have been allocated a flat in that tower.
It was TMO policy to move people with disabilities into the lower floors of the Tower. But one family accepted a flat on an upper floor in desperation, and lost their disabled mother who was unable to escape.
So these disabled survivors now need to …
Source:: The Huffington Post – UK Entertainment
(Visited 2 times, 1 visits today)