Adorable Handmade Father's Day Cards You Can Make With Kids Of All Ages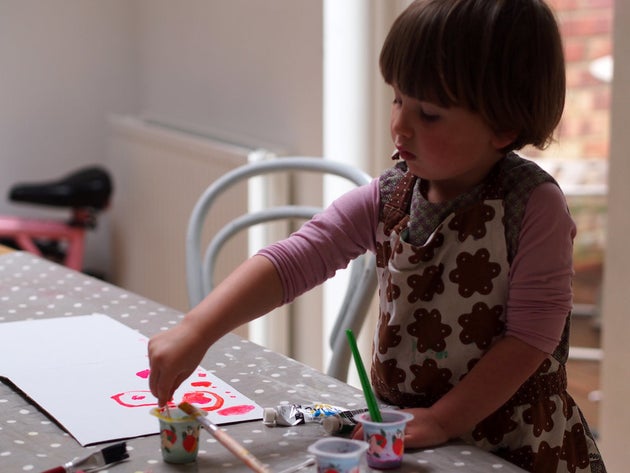 Sure, you still have time to get to the shops before Father's Day, but if you want to give him something he'll truly appreciate, nothing can beat the thought and effort that go into a homemade card.
Whether your child is a budding Picasso, or is more likely to get so carried away with colours that everything becomes a murky shade of brown, spending an hour or so making a card will keep them entertained and result in a smile on dad's face – double win.
For those in need of inspiration, we asked three craft bloggers to share their favourite creations that can be made with kids of all ages:
Davina Drummond helped her daughter Elfie made a Super Dad Badge Card for her father Nick.
"This is something Nick and I have always had fun doing for our dads, even before Elfie was born – often we'd collaborate and treat it as a mini art project," explains Drummond. "Now it's really lovely to collaborate with Elfie to make one for Nick and sometimes all three of us will work together to make cards for the granddads."
You will need: a painting/drawing by your child, felt, a safety pin or brooch clip, washi tape, card and glue.
Give your child free rein to draw any design they like. Then, depending on their age, either you or they can cut out the shape of the badge. Full instructions here.
Kate Williams, mum-of-two who runs family lifestyle blog Crafts On Sea, worked a humorous line into the latest design her family made.
"Handmade cards are the ones that both kids and parents remember the most, as a kid I remember some of the ones I made for my parents and my joy at seeing how they kept them for years. Now as a parent myself I love to see what my kids come up with," she says.
"I try to come up with ideas for cards that can be adapted for younger or older kids, with the smallest kids a scribble or finger painting still makes for an important keepsake while it's lovely to see the older kids show off a bit of creativity – we tend to get a lot of unicorns and Darth Vader added these days!"
To make Williams' Fan-Tastic Dad Design all you'll need is coloured card or paper, pens, glue dots and sellotape.
"I've drawn hearts …
Source:: The Huffington Post – UK Entertainment
(Visited 2 times, 1 visits today)