A Parents' Guide To Fortnite, GTA V, Call Of Duty, Roblox And Minecraft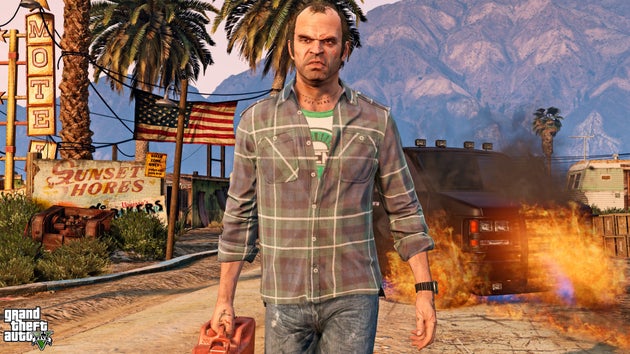 Many of the world's most popular digital and video-games are played by children, from Fortnite to Minecraft. While both of these games are by and large child-friendly, kids are playing plenty of others that perhaps aren't.
For any parent who either doesn't know, or just isn't interested in, gaming picking titles that might be suitable and identifying those that definitely aren't can be a potential minefield.
To help you work out what each game is about, we've chosen the most popular video games at the moment and explained what they are, what type of content they contain and whether they include opportunities for your kids to spend money on extras or interact with strangers.
Grand Theft Auto V (GTA V)
What is it? Probably the most successful game in history, Grand Theft Auto V is considered a landmark in the production of video games. Its vast open-world, cinematic storyline and huge online community has turned it one of the most profitable games since its launch in September 2013.
Is it violent? Grand Theft Auto is an extremely violent game that earns its 18-rating in almost every respect. It contains scenes of regular drug use, prostitution, nudity and in one particularly harrowing scene asks the player to torture another human being.
Can you spend real money? There is an in-game currency system for GTA Online, which allows players to explore the world of Grand Theft Auto with their friends.
Can you talk to strangers? As with any video game that's on a console there is a chat functionality, but if you're using an Xbox One or PlayStation 4 this can be disabled by parents.
Who's it for? Strictly 18+.
Available on: Xbox One, Xbox 360, PlayStation 3, PlayStation 4 and PC.
Roblox
What is it? Roblox is essentially a vast library of mini-games that have been created by other people. It has over 60 million kids/teens playing and is available on iOS, Android and Xbox. Looking like a mix between LEGO and Minecraft this game has managed to sneak under many parents' radars simply because not much is known about it.
Is it violent? Like any platform where the content is created by the public, there will be games that are not appropriate for children. Parents can limit the games their kids see to only those appropriate for under-13s. Sadly there are no further restrictions, however Roblox says it constantly looks for and removes games that might …
Source:: The Huffington Post – UK Entertainment
(Visited 4 times, 1 visits today)